Lanzarote. Lava Fields Ride. Friday 19th February.
On Wednesday of last week the 10th February I had a fairly long ride
into the Mountains to the north. I stopped for elevenses at La Nieves, at a viewpoint at some rocks on the edge of 2000ft cliffs dropping down to Famara on the Western coast. The picture shown below looks south along the West Coast towards La Santa in the distance.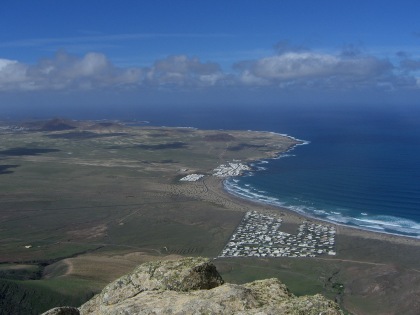 That week ending 13th February my mileage was 150. This week it will
be a lot less. For 5 days from last Sunday to yesterday a series of fronts crossed the Island bringing showers or longer periods of rain and gale force winds. It was the worst weather here in the 5 years I have come to Lanzarote. It was a bit like an English Summer with the only good thing being that at least the rain was warm with temperatures on some days reaching 24C.
It was a real shame for all the families coming here, half term week.
Today at last the weather returned to normal with sunny skies, light winds and temperatures of about 22C.
I took a ride on back lanes via Tias and Conil to the central Plateau at 1000ft. Then it was along a nice smooth road with little traffic across the Lava fields near their northern edge. I stopped for a sort of photo shoot among the rocks.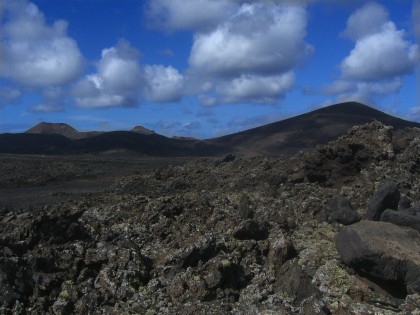 Then it was various back roads to San Bartolome in the centre of the Island. I stopped here to check out a noise coming from the back wheel. I was alarmed to discover a tear in the inner side of the rim around a spoke hole.
The rim was out of true but still rideable. I took the 5 mile descent to the coast at Playa Honda fairly carefully trying to avoid braking on the rear wheel. After a picnic lunch on the prom I stopped off at a Bike Hire shop. Anne will remember the one and the really helpful man who repaired her bike last year. He sold me a rear wheel and swapped the block and tyre and adjusted the gears all for 30 euros. All of this done in 30 minutes while I had a drink in the café downstairs. Great relief to get it sorted.
32 miles for the day.
Scroll down for local Club Rides
Edwin
Posted by RideLeader at 19:39 GMT
Updated: Friday, 19 February 2010 19:51 GMT