Sunday 12th September. Arun Crossings Ride
Today was a beautiful sunny day, possibly a last taste of summer. Temperatures were up to about 20C despite a NW wind.
After my accident 2 years ago I opted out of the Arun Crossings Ride route but met the group for elevenses and lunch. From our Section there was Colin, David Glue and Richard. Alan and Liz met us at the Pub. There were also 2 non members out for the first time from Felpham David Clark and Dominica Clark. From Arun Adur there was Richard Boulton, John Wickens, Dave Fox and Graham. Bob represented Horsham with Barbara meeting us at the Pub.
I took a route via Madehurst, Whiteways and Fittleworth and then the long stiff climb up Brinkwells Hill and down to Wisborough Green. I was soon joined by Richard Carlisle who was starting the route from Wisborough Green. A short time later the rest of the group arrived.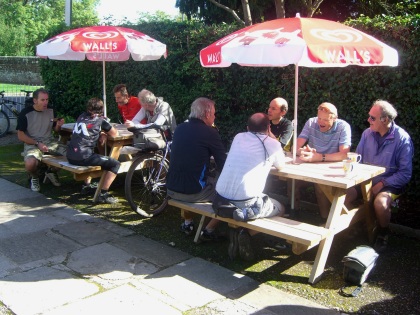 I took the road up to the Blue Ship at The Haven meeting Barbara there who had come direct. After a little while the offroaders arrived and we enjoyed lunch in the sunny garden.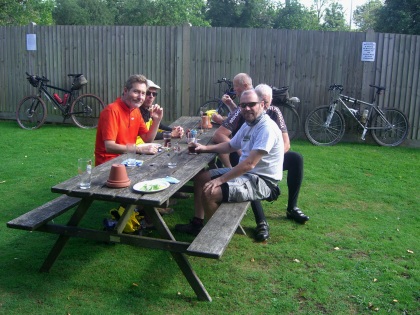 Alan and Liz came direct to lunch and rode part way back with Colin in the afternoon.
I rode back home with Graham as far as West Chiltington. I then continued via Wiggonholt and a short tea break and then Houghton Hill and an ice cream stop on Felpham seafront.
The Arun Crossings ride route was approx 35 miles. My mileage for the day was 64.
Edwin
Posted by RideLeader at 21:37 BST