Sunday 22 August. Ride to Shoreham
Sunday was not very promising with rain forecast for most of the day. Still, it was dry by the time it came time to leave and as I really needed to get out after 2 days mainly indoors I headed off for the start at Walberton. Colin was our leader and he was joined at the start by just myself and Gill.
Colin set off at a fairly brisk pace to take us over the Downs on the lane via Madehurst. Then it was down Houghton Hill and on via Amberley. We turned off before Storrington on a lane and then a tarmaced path to come out on lanes skirting round West Chiltington and coming out eventually at Ashington. This was a good route to avoid the busy main road. Then it was down to Wiston for tea at Wiston tea rooms in the Garden and so far all in dry if cloudy weather.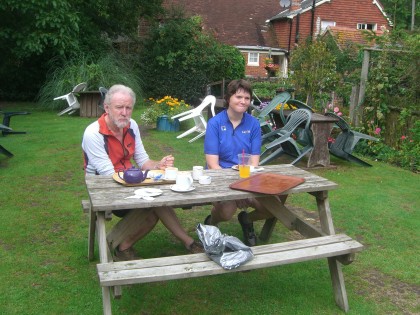 Then it was along Spithandle Lane to come out south of Ashurst and drop down on the B road to Steyning. We turned off here along Coombe Lane to cross the Downs at the side of the Adur Valley. As we rode further south a few spots developed into heavier rain. The original plan had been to have a picnic on a nearby hill and watch some of Shoreham Air Show. However Colin's planned Hill was shrouded in low cloud and with the cloud level at no more than one or two hundred feet not many planes were flying.
We decided to head into Shoreham and find shelter for our picnic. We eventually found a WSCC Car park under the Library. Not the most salubrious or scenic of picnic spots but at least it was dry.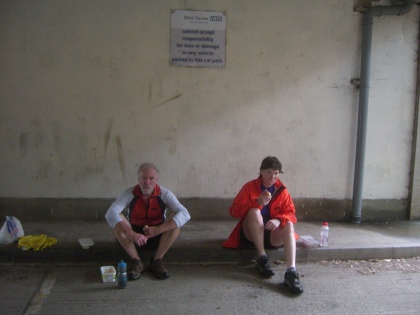 We then headed for a cafe for a hot drink and Colin led us to one he knew of near the Lock Gate not far from the Power Station. The clouds only just cleared the Power Station Chimney.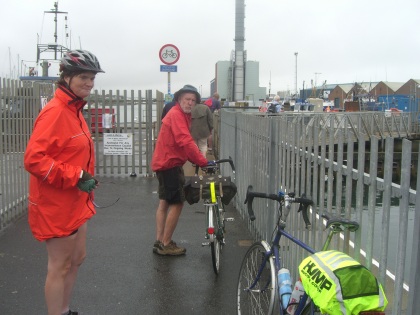 We headed back along the coastal cycle route mainly on the Prom and making use of the prom west of Worthing recently opened up to cyclists. The rain was off and on and mainly light. After Ferring Colin led us on a convoluted quiet route via many of the private estates near the sea. We had a welcome Tea Stop at the Look and Sea Café at Littlehampton.
Then it was back via Yapton where I split off to head home via Middleton and the coast.
Mileage from and back to Walberton was about 57. My mileage for the day was 71.
Edwin
Posted by RideLeader at 20:36 BST