Evening ride - Arun leisure Centre to the Murrell Arms Barnham
‏
After a bright and sunny day, the weather turned a lot colder and windier for the first of our summer evening rides.
I wasn't too hopeful about who would turn up, given the change in the weather, but in the event we had a really good turnout of 14 - Carol, Steve, Michelle, Maureen, Collette, Dmitry, Julian, Steve, Suzanne, Cameron, Russ, Liz, Harvey, and me.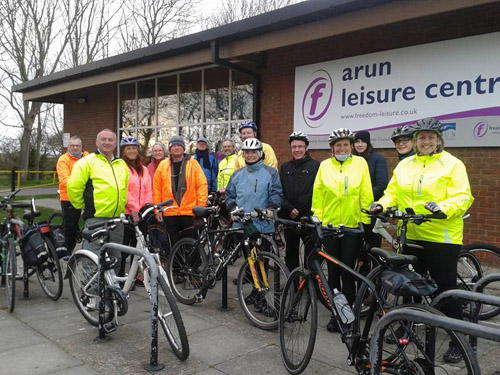 I took the riders on a short route running from the leisure centre to the Glenwood, then some fields we don't normally use to the golf club (including negotiating a dry ditch - not as difficult as it sounds) and from there down Stanover road which is the old route we used to use before the new estate at Felpham was built. this lane is gradually being returned to walkers and cyclists as the housing construction comes to an end, but at the moment it is still diverted across the building site. nonetheless it was an interesting diversion from the routes we've recently been using.
Emerging on the new estate, we rode through to the newly opened relief road and then headed west along its shared footway and cyclepath for a half mile or so before diverting 50 yards across another field to join the Barnham cycle track beyond the end of hoe lane.
Following the usual route, with the wind behind us, we quickly arrived at barnham church. then it was hill lane and its patchwork of generations of small tarmac repairs - astonishingly about halfway down, roughly 100 yards has been completely re-surfaced but still surrounded by endless bumps and holes. At the end of hill lane, a left turn took us to the Murrell. as we piled in we reckoned we had more than doubled the clientele.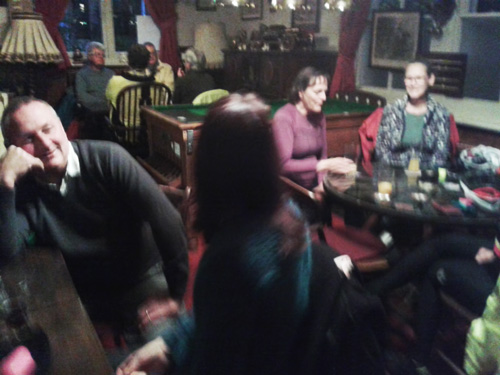 The homeward route was straight through the fields on the Barnham Cycletrack to Flansham and Felpham, a route always a little more exciting after dark. but no incidents to report.
The round trip mileage was a very modest 10.5.
Graham
Posted by RideLeader at 10:50 BST
Updated: Friday, 29 April 2016 10:55 BST