Sunday 31st January. Ride to Woodmancote
The weather today was overcast with light drizzle clearing later in the morning and quite mild at 13C.
Harvey was the leader and surprisingly for such a day he was joined at Chichester Cross by myself, Russell, Sam, Avryl and Chris so 6 out for the day. We were due to go to Rowlands Castle for lunch but decided at the outset to make it a half day ride with elevenses at Woodmancote.
We headed out on the usual South Coast Cycleroute lanes which were quite muddy and wet. One notable incident was that as we descended one of the dips a car came roaring past and immediately did a left turn in front of Harvey to turn into an entranceway. A classic case of stupid impatience.
We soon reached the Woodmancote Inn which opens early on a Sunday to serve Hot drinks and a Cake for £3 and has a welcoming warm fire. Not surprisingly it is quite popular with cyclists.
It was dry for the return which we took on the same route. Mileage from and back to Chichester was 14. My mileage for the day from Pagham was 26.
The following picture was taken a few weeks ago on my last London day trip. It shows the bridge to the partly opened Canary Wharf Crossrail Station building. It reminds me of a Star Wars Star Fighter Launch Tube.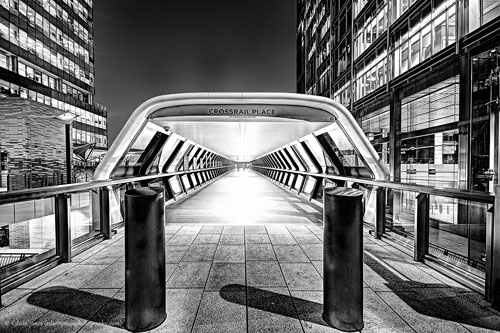 For more details and a larger picture see https://www.flickr.com/photos/edwinjones/24036891273/in/dateposted-public/
Edwin
Posted by RideLeader at 19:18 GMT