Sunday 23rd October. Ride to West Stoke for AGM
The weather today was sunny most of the day though with a chilly easterly wind. Temperatures started out at 6C rising up to 12C.
Most people went direct to the AGM at West Stoke Village Hall. However I led a ride starting 9.30 at Chichester Cross. I was joined by Russell, Bob, Arthur and Keith.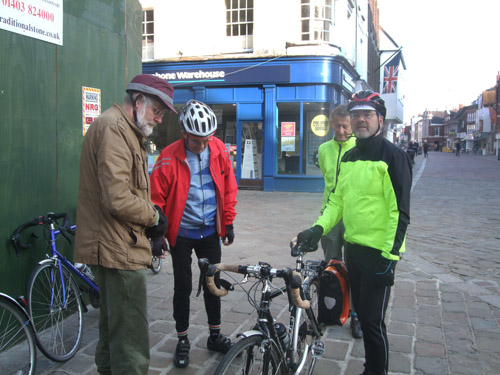 We headed out on West Street and then the Centurion Way north to join Hunters Race Lane just before Lavant. Then it was more quiet lanes to West Stoke village hall for the AGM. The official meeting started at 10.30 and continued to 11.45 and included a lot of discussion about Cycle Routes. We stayed in the Hall for a Picnic Lunch with Tea and Coffee prepared by Dave and Jan.
In the afternoon I was joined by Russell, Colin and Harvey for a short ride on the lanes to the west.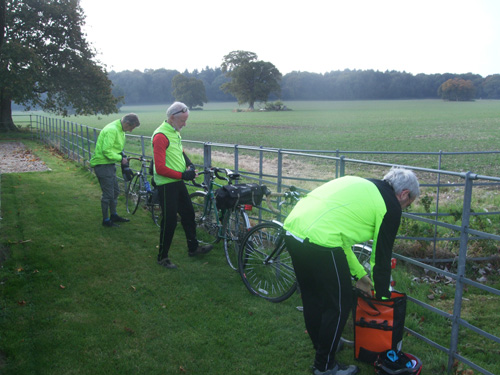 We headed via Funtington, Racton and Woodmancote. Then it was down to the main road at Bosham Roundabout to join the cycle path to Fishbourne and a very early tea (1.15) at Fishbourne Roman Palace Cafe.
The ride from and back to Chichester would have been about 17 miles. My mileage from Pagham was 29.
On Thursday evening I joined a Camera Club Trip to the Sloe Fair at Northgate Car Park Chichester. No Photoshopping. The colours are all as seen and the movement is the Ride going round and up and down captured with a long shutter speed. Needless to say I only photographed, did not go on any rides.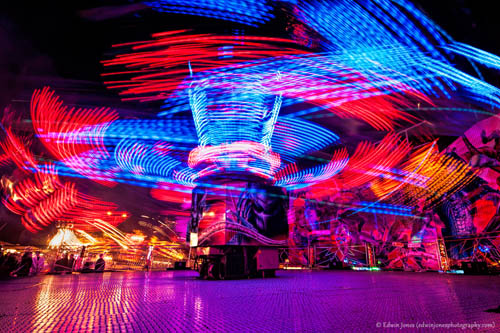 For a larger pictures and more details see https://www.flickr.com/photos/edwinjones/30483297535/in/dateposted-public/
Edwin
Posted by RideLeader at 17:25 BST