Sunday 13 September. Ride to West Meon
Weather today was mainly cloudy but dry with a few sunny spells especially in the morning. A NE wind gave an Autumn edge to the temperatures and the northerly element provided a headwind on the way out and the easterly element a headwind on the way back.
I led the ride and just Anne joined me at the Cross with Chris joining us at Rowlands Castle, We rode out on the South Coast Cycle Route lanes via Woodmancote and Westbourne to stop for elevenses at Rowlands Castle. Sam was there on a regular short ride he does from home to Rowlands Castle and back while he recuperates.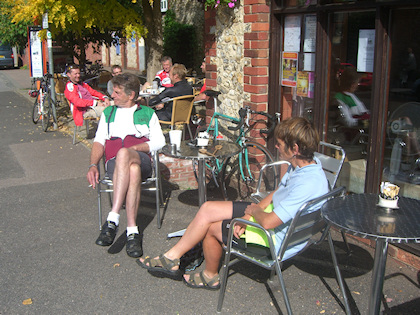 We had seen a lot of Sportive Signs on the way there and the riders soon started coming through. The Event started in Petersfield with 3 distances up to 96 miles and a total of 1400 riders taking part. Some of them arriving at Rowlands Castle missed the sign and started to go right or left instead of straight on and up the hill. Sam soon put them right bellowing out UP THE HILL.
Chris arrived when we nearly ready to leave. He had been planning to meet up with us at lunch so he was able to ride with us earlier. From Finchdean we rejoined the Sportive route as we rode over to Chalton with regular whooshes of wheels as they sped past on lightweight bikes. At the Hogs Lodge a lot of the riders stopped for a timing check.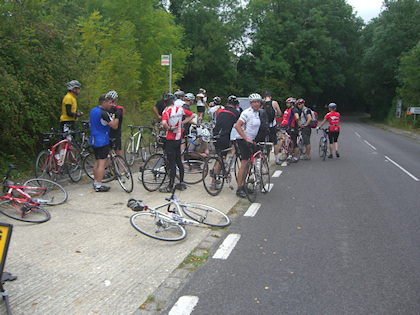 Soon after this they turned off to go up Butser Hill while we went on to Clanfield. One rider came past and I was able to catch him to tell him he was off course. Chris had a puncture just before Clanfield. When that was sorted we took the long climb to the ridge at HMS Mercury. Here we rejoined the Sportive riders who had been taken down Butser Hill and then up to the ridge from East Meon. I even managed to overtake one who must have been finding the distance and multiple hills taxing. Highlights so far for the long route riders this morning had been Buriton, Uppark, Telegraph, Cocking from the south, Duncton and Charlton.
We continued with the Sportive along the ridge with great clear views as far as Fawley and then a steep lane down to West Meon and The Red Lion for lunch. We have not tried this in a long while and it has seen better days. There were very few customers and the sandwiches were somewhat inadequate for hungry cyclists.
After lunch we headed back along the valley and The Sportive again took my route! At one point a fairly large group came by and I was able to get on the back and draft behind them. This didn't last long as we turned off into East Meon while they went straight on. We took lanes round the back and the Sportive rejoined us as we passed a lane from Ramsdean. Later they turned off into Petersfield to finish while we continued to Buriton and up the hill. Then it was down to Finchdean and up Forrestside and down to Stansted for tea where the sun came out again. We headed back via West Stoke.
Mileage from and back to Chichester was 53. My mileage from Pagham was 65.
Edwin
Posted by RideLeader at 21:08 BST