Sunday 9th August. Phil Turner Memorial Ride. Short Ride
A big turnout today for the Phil Turner Memorial Ride, 19 riders meeting at the Cross at 10.00.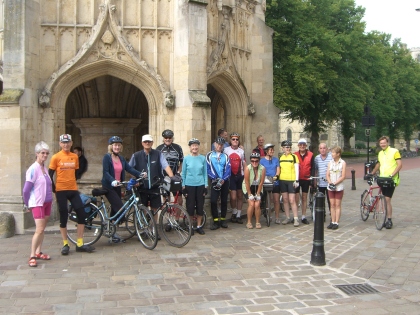 It was an easy flat ride along the Saltern's Way stopping for coffee at Chichester Marina. We had been delighted to have Mary Turner and two of her family riding with us and but they had to leave us here and return home.
We continued along Salterns Way to West Wittering and then on to East Wittering to our lunch stop at the Boulevard Cafe. People with sandwiches walked along to the beach. Bruce McNeil from London joined us here.
After lunch we headed East to reach the Sustrans Route no.88, 'The Bill Way', via Earnley, Almodington and Sidlesham joining the Route at The Crab & Lobster. Brian Wey got a puncture which was quickly mended by Arthur and caught us up as we turned off the Route at the turning to Runcton to Mary's house for tea at about 3.00pm in advance of Edwin's party. There were 37 in all at Mary's for tea. See Edwin's write-up below for more detail.
On a lovely summer's day it was great to see so many cyclists out including those from our neighbouring groups enjoying a very fitting memorial to our dear friend Phil.
Our ride totalled 27 miles.
Avryl
Posted by RideLeader at 22:50 BST
Updated: Tuesday, 11 August 2009 19:47 BST