Sunday 9th October. Ride to The Hamilton Arms, Stedham
The weather today started with bright sunshine in the morning though with more cloud in the afternoon. A chilly start at 9C warmed up later to reach 15C.
Sam was the leader and he was joined by Jeff, Russell and myself so 4 out on the day. The Chichester Half Marathon started at 9.00 today and we briefly watched them go past along East Street.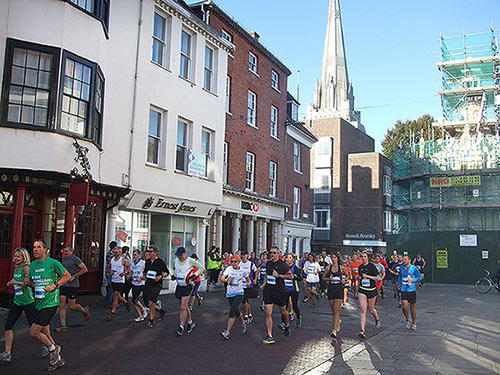 Due to renovation work on Chichester Cross our start point had to be moved to the Nat West Bank on East Street in the sun to warm us up. Before we left Jeff made technical adjustment No 1 to his bike as he needed to lower his saddle after getting it back from a Service.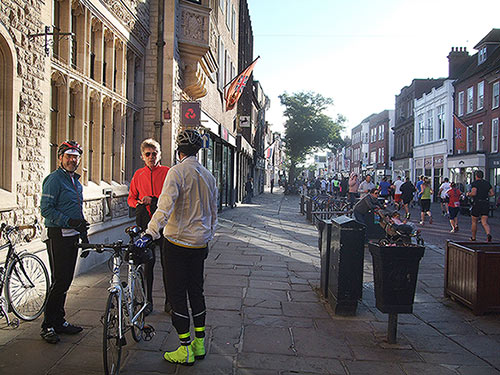 We headed out up North Street on a route to avoid the Runners. Then it was up the B-Road along Old Broyle Road before turning off onto a lane, West Stoke Road and over Hunters Race before Technical Adjustment Stop 2 for some more Saddle fiddling.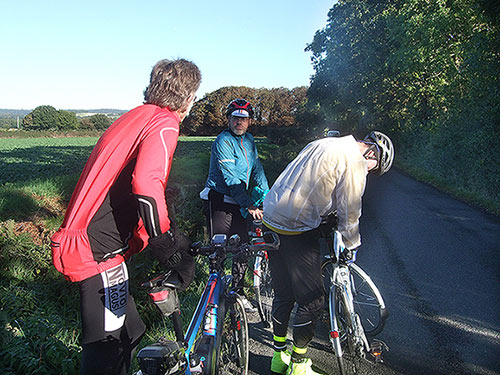 After passing through West Stoke we passed the Kingley Vale car park and at Woodend stopped for technical adjustment 3 to sort wheel noises. Sorry Sam, I caught you at a bad moment!
500 yards further on we stopped for technical Adjustment 4, sorry I lost track of the cause but it was the last.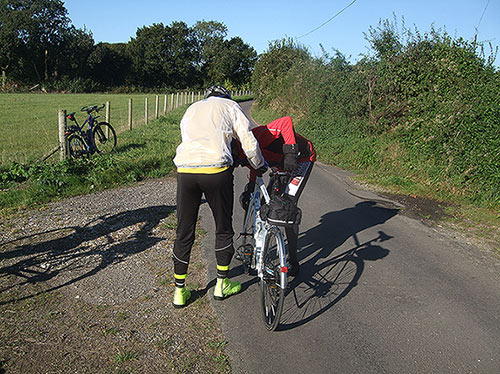 We continued through Funtington and then it was the B-Road via West Marden and on to Compton for our elevenses stop in the sun trap beside the Cafe. Another Cyclist kindly took the picture of all 4 of us. Sam looks a little awkward as he was trying to hold in his tummy.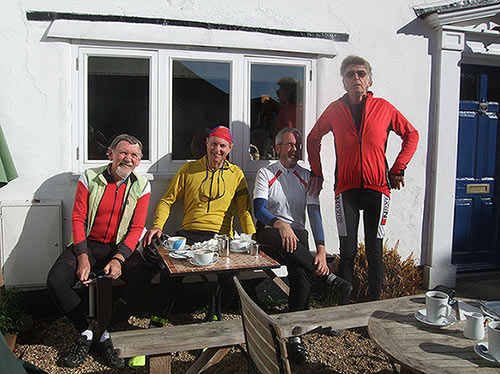 I headed back from elevenses while the rest continued via Harting to the Hamilton Arms, Stedham and a meet up with Arun Adur.
My mileage for the morning from Pagham was 35.
Edwin
Posted by RideLeader at 15:36 BST
Updated: Sunday, 9 October 2016 15:38 BST