Sunday 10 July and Tour de France
The big news on the Sunday Ride today was that Sam has just acquired an electric bike. It is a German make, Cube with a Bosh Electric Motor and a range of 90 miles with a top speed of 18mph. That applies on hills too which is bad news for the rest of us. The good news though is that the rest of us can beat him easily in a sprint.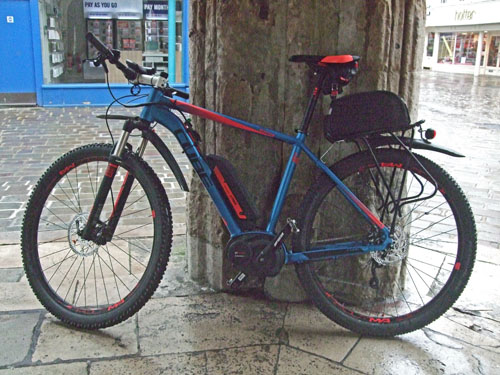 The weather was fairly rubbish with drizzle turning to rain by our 9.00 start and temperatures up to 17c and a SW wind driving the wet. Sam was the leader and I was the only other one to turn up. The planned destination was Hambledon which we abandoned in favour of a short ride for an early elevenses at the Control Tower Cafe, Goodwood.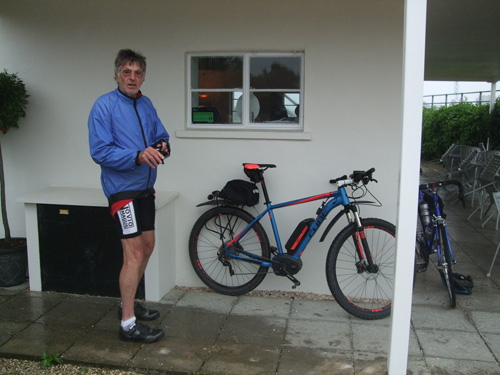 After leaving we continued as far as the base of Pillygreen Hill. Here Sam planned to give his steed a full power test up the hill. I split off and returned home via Halnaker and Tangmere.
My return mileage from Pagham was 19.
I have just returned from France on a trip which included a 4 night stay near Coutances on the west coast of the Cherbourg Peninsula to view the first 3 stages of the Tour de France. Handily it was possible to view all 3 stages within a 20 mile range.
The first picture was taken on Stage 1 which ran from Mont St Michel to Utah beach. The location is on a corner leading on to the Causeway at Briqueville-sur –Mer at 69 Kilometers into the Stage. It shows the Peloton coming round the corner with my Union Jack strategically placed. Mark Cavendish went on to win the Stage.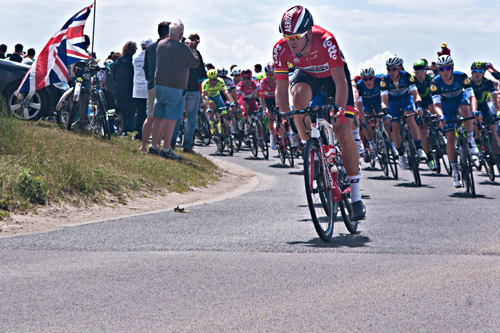 The next picture was taken while viewing Stage 2 with Mark Cavendish in the yellow Jersey and near the front of the Peloton in this shot. This was taken at the Cote de Montpinchon which is a 4th Category Climb 52 kilometres into the Stage. A dismal morning with drizzle interspersed with heavier rain just about clearing as the race arrived.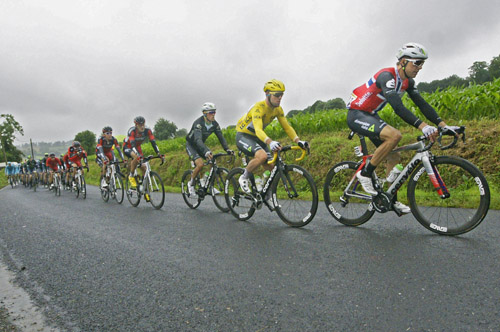 For the next picture the location was the Stage start at Granville and a lot of time was spent hanging around the Dimension Data Team Bus for Mark Cavendish to emerge after a planning meeting for the successful team tactics for the day. Cav again won the stage at the end of the day.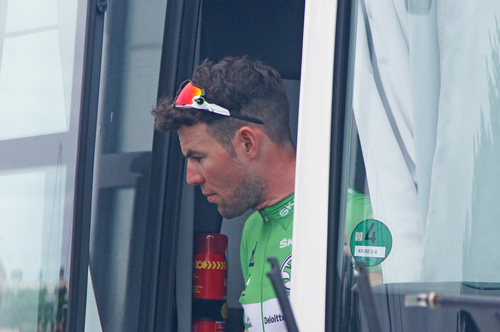 Edwin
Posted by RideLeader at 15:08 BST