Sunday 16th August. Rides to Portsmouth
The weather today was pleasant with a sunny start though more cloud later and very light winds and temperatures up to 18C.
There were 2 rides, a hilly ride starting at 9.00 led by myself and a flatter ride starting at 9.30 led by Harvey. On the longer ride I was joined by Sam and Rex. Chris met us briefly before going on to bell ringing and met up later for lunch.
We headed out via the Centurion Way and then on via West Stoke, Funtington and Rowlands Castle to stop for elevenses at Horndean Garden Centre Cafe. Somebody in management must have had an off day when they decided to repaint the cafe purple with matching umbrellas, oh dear.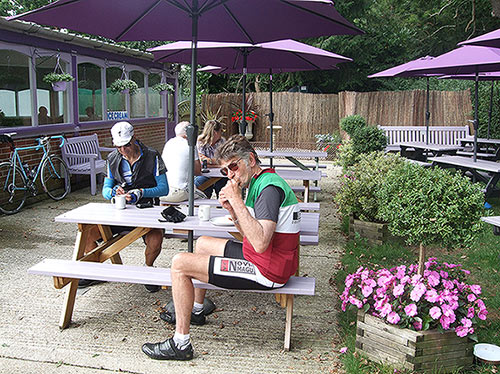 We continued with a lane via Cathrington and then a very quiet route coming out north of Denmead. We continued across to Worlds End, somebody else had an off day long ago when they named that village. Then it was on lanes to Southwick and a long gradual climb to Portsdown Hill. We gained a magnificent view over Portsmouth Harbour before descending at speed to Cosham.
Then it was the signed cycle route on the western side of the City passing the continental ferry port and the Portsmouth Isle of Wight car ferry port. Then along the sea front to the War Memorial where we met up with the other ride for lunch. Harvey was joined by another 4, David, Mark, Philip and Mike and Chris met us at lunch so 9 out in all. The Kites on display over Southsea Common for the International Kite Festival were fairly disappointing compared with last year with none of the really big kites, possibly due to the lack of wind.
We all rode back together heading east along the seafront and then along a waterfront path before joining the Eastern Road Cyclepath. We continued via Havant and on to Fintstones Cafe, Emsworth for an ice cream break in lieu of a tea stop.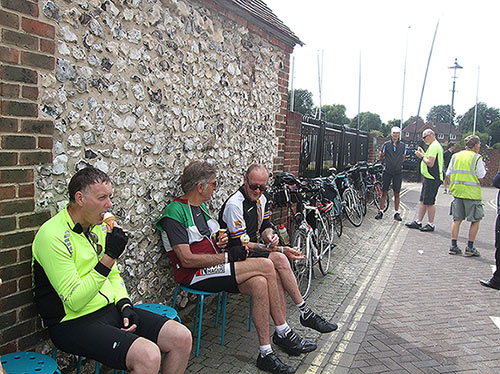 The return was via Westbourne and Woodmancote. Mileage from and back to Chichester was about 56. My mileage from home was 68.
My latest London pictures taken last Monday are from Canary Wharf. The first is of the new futuristic bridge to the part completed Canary Wharf Crossrail Station.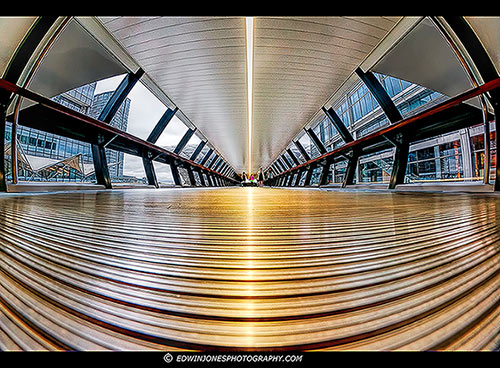 For more details and a larger picture see
https://www.flickr.com/photos/edwinjones/20295152238/in/dateposted-public/
The second one is of the new roof garden at the top of the Crossrail Station.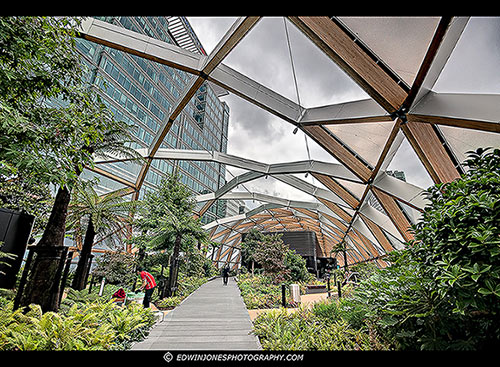 For more details and a larger picture see https://www.flickr.com/photos/edwinjones/20541707761/in/dateposted-public/
Edwin
Posted by RideLeader at 00:01 BST
Updated: Monday, 17 August 2015 09:27 BST