Sunday 19 April. Ride to West Chiltington.
Six of us met at Walberton Pond. Our leader Gill was joined by Anne, Avryl, Edwin, Colin and David. Alan and Liz joined us for Elevenses and lunch and Russell for the Freewheel competition and lunch.
Weather was sunny intervals with some cloud. It was very chilly early on with a strong NE wind but warming up by the afternoon to about 17C.
Gill led us the usual route via Madehurst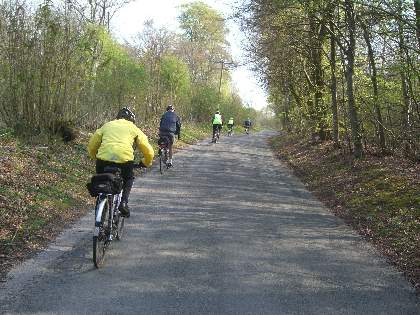 and Houghton and then Amberley to stop for elevenses at Wiggonholt. We met the rest of the DA there with riders from Horsham and Arun Adur. Even without all the Cyclists the Café was very busy. Some of our group were delayed coming into the café while they admired Keith's new Bamboo bike.
We all left together making a good sized group.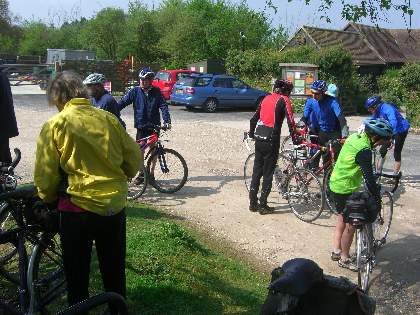 We made our way to West Chiltington and then left at the X-roads to climb the hill to the start of the freewheel competition.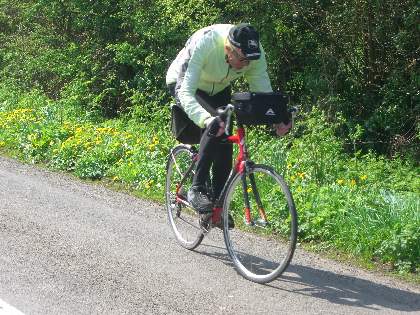 Dave Fox coming to a stop

Paul from Arun Adur won it and Gill was fastest lady.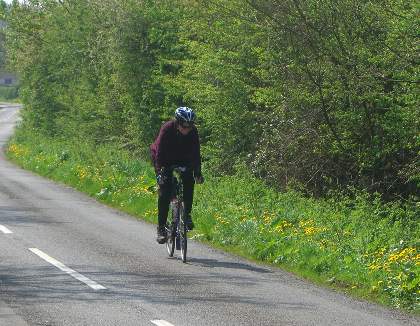 Gill

Confirmed numbers are that 8 rode it from Arun Adur, 7 from Bognor Chichester and 3 from Horsham.
We stopped for lunch at the Queens Head, West Chiltington and there were few other customers so we made their day.
After lunch the various groups split up. Gill led us via Storrington and Parham House to Amberley for tea. It was sunny and warm in the café courtyard.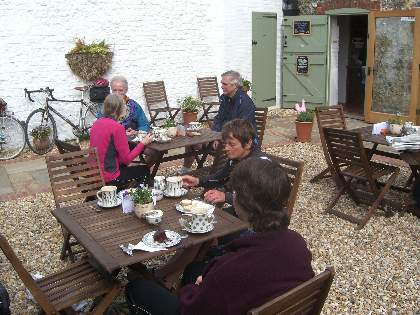 Colin left us to go back over the Khyber pass while the rest of us headed up Houghton Hill. We split up at Slindon. I headed back via Yapton and the coast. Mileage from and back to Walberton was about 35. My mileage was 51.
Edwin
Posted by RideLeader at 19:02 BST
Updated: Sunday, 19 April 2009 22:09 BST