Bognor Chichester Anniversary Dinner and Ride
Kevin Mayne Director of CTC and his wife Cheril were guests of honour at the 25th Anniversary Dinner of the forming of the Bognor Chichester Group of the West Sussex DA.This was organised by Avryl and took place at the Robin Hood Inn just outside Bognor Regis on Saturday 21st March 2009.
Kevin was appointed 11 years ago to modernise the CTC by the then chairman Tom Lamb. Coming from industry Kevin was considered an outsider (the Brian Clough of Cycling) but unlike Cloughy, Kevin did get the top job.
Kevin gave an inspiring and informative after dinner speech covering the resurgence of the CTC from the low point of the 1970's to the present day. Whilst the promotion of touring remains central to the purpose of the CTC it is aware nowadays people need encouragement to try cycling. The CTC is now administering multimillion pound lottery projects for various cycling initiatives, notably the Bikeability training programmes for all ages and the Cycle Champions project which aims to increase the nation's health and fitness. This brings cycling to groups of all abilities but especially those that have historically not experienced the health benefits and sheer pleasure that cycling can bring.
Kevin took us back to 1984, the year of the formation of the Bognor Chichester Group and read out a review from Chris Juden on a new breed of bikes (off road machines). This perceptively pointed out that these bikes could make very good touring bikes. Given that one of our number, Colin Bloomfield had just returned from six weeks solo touring Vietnam and Laos on a Marin that probably dates from 1984; we can see how accurate that early assessment was.
Kevin answered questions including what makes a successful group and many points were noted.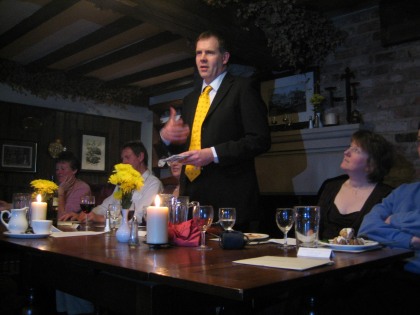 Philippa thanked Kevin for attending and asked him and Cheril to cut the celebratory cake baked and decorated with cycle clips and other cycle accessories by Mary Turner.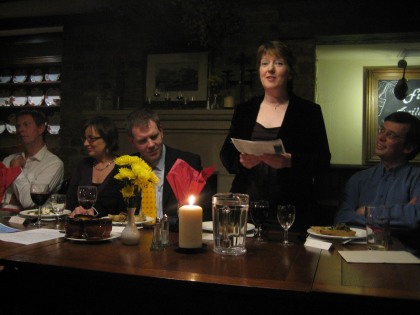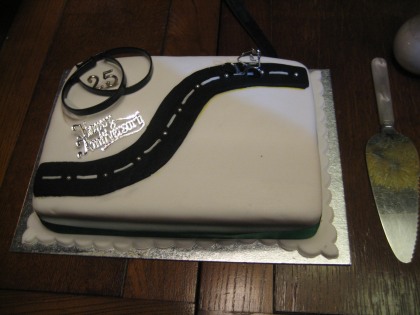 A lovely sunny Spring day greeted the 'day after riders' at Chichester Cross.20 attended on the Ride including Kevin Mayne, Colin, Richard, Jeff and Beatrice, Alan and Liz, Bob and Gill Marshall, Arthur and Lynn, Gill, Anne, Philippa, Jo Phillips, Harvey, Kath, Freda and Jim and Keith Dodman. The photo shoot with Kevin, again the guest of honour, involved Japanese tourists taking photos of CTC riders taking photos of other CTC riders.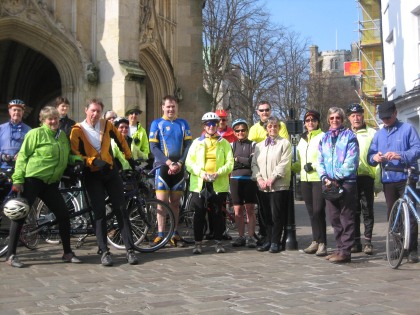 After everyone had taken photos of each other we departed via back roads to Bosham. The low tide allowed riders to use the road around the edge of the harbour with great views of Bosham village.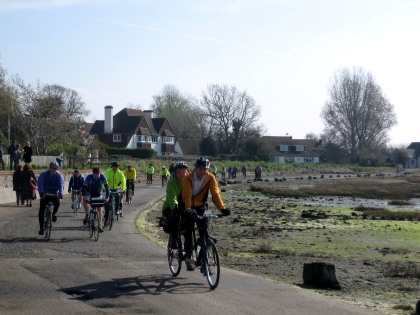 There was an elevenses stop at Bosham before continuing to Rowland Castle for lunch. The ride was led by Richard Carlisle. The Ride was a re-enactment of the Bognor and Chichester Groups first Ride which was to Rowlands Castle on 14th April 1984.
Write up by Jeff Lander and Photos by Colin Bloomfield
Combined and posted by Edwin from Lanzarote
Posted by RideLeader at 17:57 BST
Updated: Monday, 6 April 2009 11:16 BST