Lanzarote. Thursday 26 February to Monday 2nd March. Scroll down for local Club Rides
The first three weeks of February were exceptionally good weather even for Lanzarote with clear skies, no rain and temperatures up to 21 C. Thursday 26th of February was no exception with clear blue skies and feeling very warm in the strong sun. Then at about 3 p.m. about at the time that the plane touched down from the UK carrying, Peter Wilson, Richard Boulton and Bruce McNeil, the clouds rolled in heralding a period of more cloudy and unsettled weather. Harvey Probert arrived a few hours earlier. Unsettled weather in Lanzarote usually involves sunny spells with scattered showers very often in the form of very light rain.
The first ride on Friday was a sort flat ride along the coast Cyclepath to Arrecife and back of 18 miles return. We had a late start after everybody had unpacked their bikes. We stopped at a good bike shop in Arrecife for some people to buy bits and others to look round the shiny but expensive gear. Weather was hazy cloud but dry.
Saturday was a 32 mile ride through Lava Fields and beside volcanoes. Weather was dry with a lot of sun and up to 18C for most of the day. In the late afternoon we got a few spots on the edge of a heavy shower but managed to avoid it. We rode up the big hill taking a back road to Tias and then another back road to the village of Conil at 1000ft. There was a bar there which appeared closed although there were lights on. We settled ourselves at the tables outside and they soon opened up. Being out of the Tourist areas drinks were half the normal price.
We continued across the plateau riding beside the shattered cone of a volcano and lava fields spread out to the horizon in an almost moon like landscape. At a small town we stopped at a handy shaded bus shelter for a picnic lunch. Then it was on across more lava fields into the Timanfaya National Park.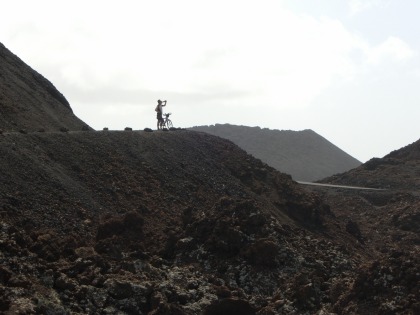 Here we paid an entry fee and rode up to a Visitor Centre. From there it was a bus trip round the spectacular central volcanic area. No pedestrians or bikes are allowed on the circuit for the very good reason that the road is the width of a bus with steep drops.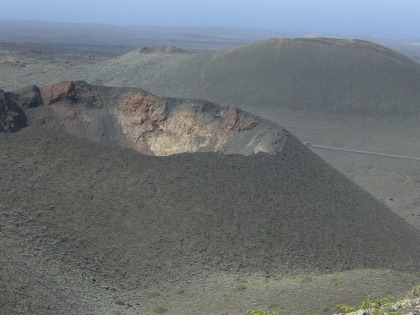 After watching some demonstrations of the heat in the area including geysers set off by pouring water down a hole we headed on. We descended across a vast expanse of lava fields to Yaiza and then down and back to base. There was a big festival/carnival this weekend with the procession starting along the seafront at 5.30. We did a fast turnaround to get changed and down there in time. We didn't have to worry. In the end it took 2 and a half hours for the procession to pass. We stood it for an hour and then went to a nearby restaurant for a meal.
On Sunday we did a ride via Tahiche and Costa Teguise and back through Arrecife and the cyclepath back for a mileage of 33. Weather was clear to start with but then clouding over for the middle of the day with some light rain inland but dry on the coast and temperature up to 18C.. We cycled the usual quiet backroad to Tias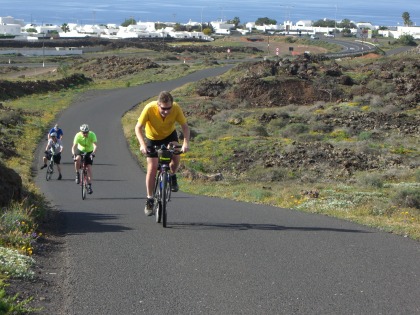 and then a different backroad from Tias between fields and old volcanoes with dried magma visible on their sides. There were many spring flowers at the side of the road. Then it was the central main road with little traffic to San Bartolome and a long downhill to Tahiche and the House of Caesar Manrique a famous architect and Artist whose house built from Lava bubbles left in the Magma flow had been converted to a museum. We had a picnic lunch in a shelter in the grounds and then looked round the house.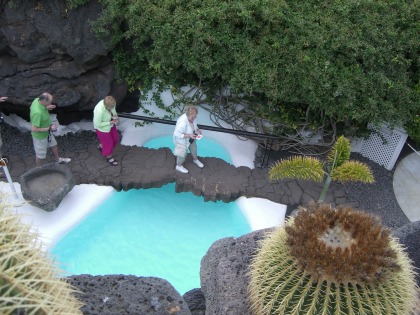 When we finished some very light rain had started but we soon left this behind as we descended to the coast at Costa Teguise. Then it was through Arrecife with little traffic around on a Sunday and on to the Cyclepath with a tea stop at Playa Honda on the front.
On Monday we had a rest day with a morning only ride to the nearby small town and Marina of Puerto Calero. 8 miles for the day.
Edwin
Posted by RideLeader at 08:58 GMT
Updated: Thursday, 5 March 2009 21:58 GMT