Sunday 7th June. Easy 100 Kilometre Ride to East Wittering
Today was Arthur's Easy 100 Kilometre Ride, a toning down of previous years 100 mile rides. The idea is to ride entirely on the coastal plain with not a hill to be seen anywhere on the route. The weather was brilliant with warm sunshine all day and light winds.
The start was scheduled for an exceptional 7.00am start. As I left home at 6.00 am there were advantages to be found in the early hour. Not a breadth of wind stirred and moving cars were notable for their absence as their normal occupants slumbered. I headed up to Chichester on the back route via Summer Lane, a track across the field and then Honer Lane to South Mundham and Hunston. The only encounters of note were a few bunnies and lazy ducks.
To help those coming from further afield our start unusually was at Chichester Station car park. The group gradually arrived with eventually 13 assembled. There was Arthur, Lynn, myself, Sam, David Glue, Graham, Martin Guarnaccio, Martin Hines, Bill, Bob, Avryl, Jan and newcomer on his first ride with us Dale Dunning. Jeff joined us for a short while after lunch so 14 were out in all.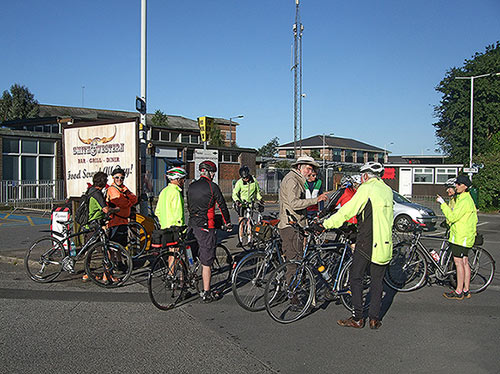 We headed out through the quiet streets of Chichester east at first via the Oving Road to Tangmere. Then it was over the A27 flyover to Temple Bar and Westerton. The first of the month Goodwood Breakfast Meet was on so our tranquillity was disturbed by Ferraris and the like. Then it was on through Westhampnett and back through Chichester, 2nd time for those not paying attention.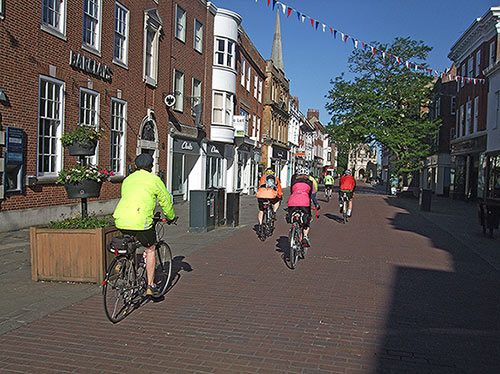 We encountered an artificial hill with the cycle bridge over the Railway to Fishbourne. At the end of that Bill fell off (first time) though none the worse for wear. After a short stretch of cyclepath alongside the A259 we turned off onto lanes to Bosham. Then it was back to a cyclepath alongside the A259 before turning off onto the lane via Chidham which does a loop south before returning to the main road.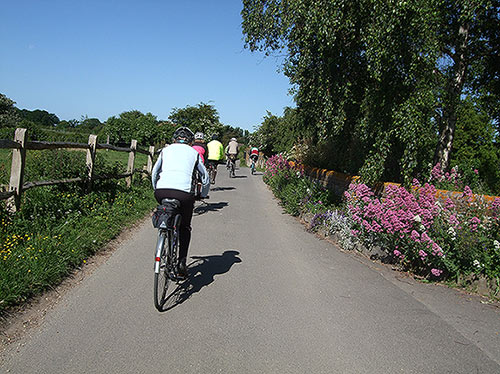 After a short stretch on the main road we turned off on another lane via Prinsted and on to our breakfast stop at the Boaters Bar. Here some of us partook of far too much food with their substantial English Breakfasts.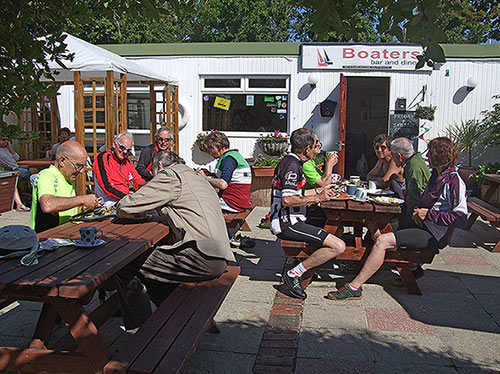 Next we retraced out steps including a loop round Chidham (2nd time) and a loop round Bosham (2nd time)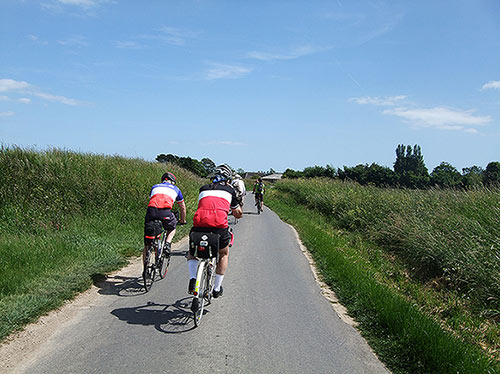 We continued on paths alongside the A259 where Arthur came off worse in an encounter with some Brambles and Avryl fell off behind him and Bill piled in and came off too (2nd time). Arthur was the only one needing some quick first aid.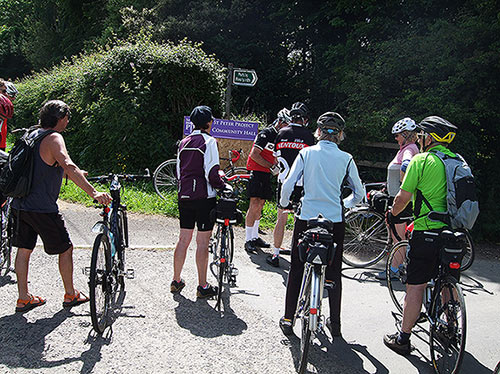 We continued via Apuldram Lane and the path to the Yacht Basin. Then on via Birdham Pool to Birdham and a short loop via Shipton Green. Then it was a lane down to East Wittering and lunch at the Boulevard Cafe.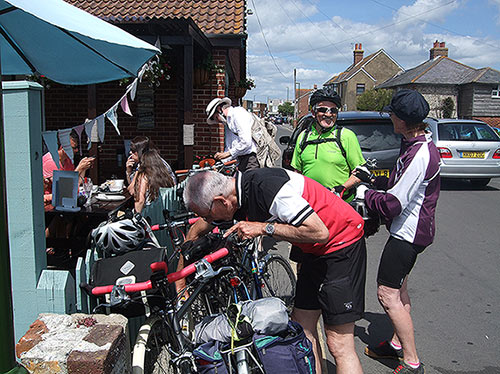 When we left we nearly but not quite lost David. We headed out via Bracklesham, Earnley and quiet lanes via Almodington.
On via Sidlesham Common where Arthur had a close encounter with a car whose driver pulled out as we were all lined up to turn into his road and signalling. This led to an amazingly polite exchange of views (honest). Then it was through Hunston and on to the cyclepath and some close encounters with some nettles. From North Mundham we did a loop down to South Mundham and then over to Merston and a loop via Colworth. Then across the airfield and tea at the Tangmere Museum Cafe.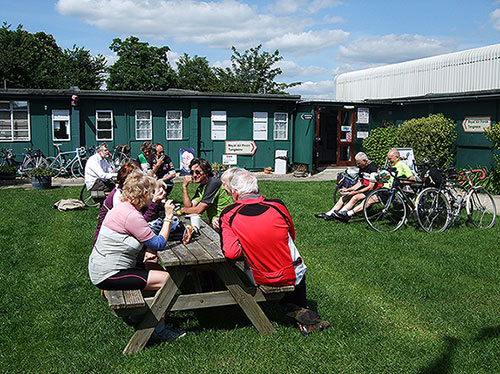 After tea I headed straight home while the others took a route back through Chichester (third time) and back to the Station Car Park to clock up 101.5 Kilometres or about 62 miles, mission accomplished! My mileage including from and back to Pagham was 73.
My latest picture to be processed was taken at Clapham North Underground Station. The tilt was deliberate to add more drama to the picture (honest).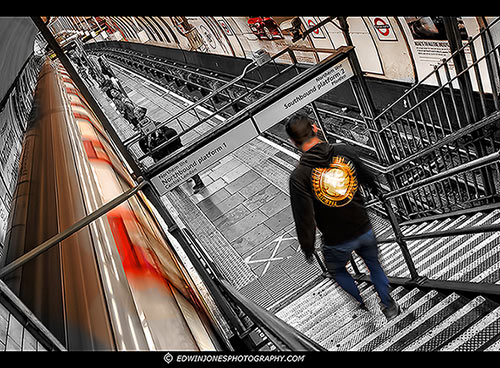 For a larger picture and more details see https://www.flickr.com/photos/edwinjones/18453581271/in/dateposted-public/
Edwin
Posted by RideLeader at 19:48 BST