Saturday 14th March - Ride from Chichester Library to The Control Tower Cafe, Goodwood Aerodrome
On a cloudy, chilly day, 11 cyclists gathered at Chichester Library for the Saturday ride to The Control Tower Cafe, Goodwood Aerodrome. Amongst the cyclists were Wendy, Nick and Youssef, who had cycled all the way from Southampton!
The group headed north, riding past the old Roman walls to come out at the top end of North Street, Chichester. A route was then taken via the roads north of St Richard's Hospital, to emerge at the Homebase store. Everyone then headed in an easterly direction via the old Roman road of Stane Street (also formerly the A27). Halfway along, a turn was made left into Claypit Lane, passing the famous Rolls Royce Motor Works on the right. From there, it was a short distance to the Aerodrome on the left.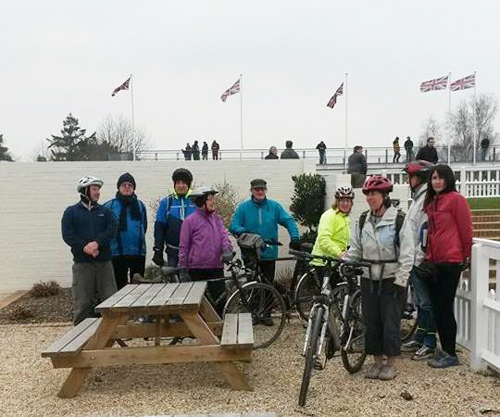 (Thanks to Carol for the picture)
Having spent a happy time imbibing tea and cake, some of the group decided to climb up to the balcony of the cafe to watch the cars whizzing round the motor circuit. At this point, Alan & Liz arrived and the group from Southampton left to continue on their 70 mile round trip!
The route back to Chichester was towards East Lavant, turning off down Fordwater Road on the left, to arrive back in the Summersdale end of town.
Philippa
Posted by RideLeader at 15:01 BST