Saturday 9th May – Ride from Chichester Library to Wellies Cafe, West Stoke
Following an unpromising wet start, the weather cleared in the afternoon for a ride to Wellies Cafe in West Stoke.
Fourteen cyclists gathered at Chichester Library, including a couple of newcomers who had seen the ride advertised on the Sky Ride website.
The group headed west towards Westgate, over the Fishbourne crossing and then north along Clay Lane, totally ignoring a 'Road Closed' sign. Fortunately, it only applied to cars and was to our advantage as it meant the road was free of traffic! At the crossing with Salthill Road, the group headed straight over, in a westerly direction. Having crossed over the A27, everyone then took the next turning on the right, crossed over the B2178 east of East Ashling, and then headed straight on towards West Stoke. Following a steady climb of about a mile, the group stopped for a breather before continuing a short distance south east to arrive at Wellies Cafe at exactly 3 pm.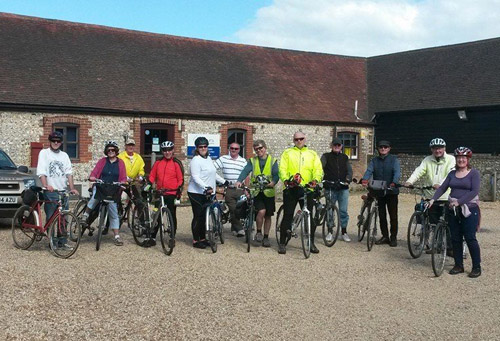 The cafe had been warned to expect at least 10 cyclists at 3 pm and were prepared for us, with a plentiful supply of tea and cake.
The route back to Chichester was fairly short. Turning left out of Wellies, the group took a couple of picturesque bridleways which came out into Hunters Race, Lavant, almost opposite one of the entrances to the Centurion Way cyclepath. Everyone then whizzed back to Chichester along the cyclepath, arriving back in town at the Fishbourne crossing.
Philippa
Posted by RideLeader at 16:03 BST