Sunday 4th September Arun Crossings Ride
First another HDR picture. This is one of Salisbury Cathedral taken last week. The view is looking down the Cathedral from the middle towards the West Front. The Eagle Lectern is polished brass.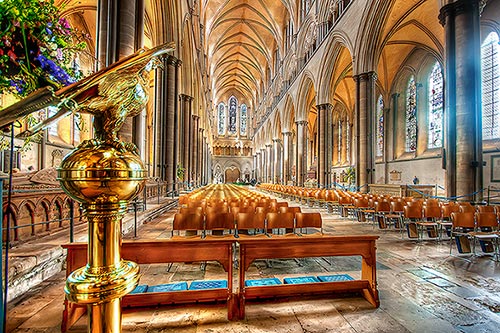 To view large see this picture on flickr at
http://www.flickr.com/photos/edwinjones/6111662048/
At the next window click the picture for a larger size and click "view all sizes" for the largest. See also there details of Cathedral history and the processing of the picture.
Today was the Arun Crossings Ride DA Event led by Colin. The weather forcast was quite bad and proved fairly accurate except that the rain arrived a little late at about 11.00. Those joining Colin at Pulborough were Dave and Vicky Fox, Richard Boulton, Bob Moore and John Clarke. Dave, Vicky and John left after elevenses and Chris Dart joined at Lunch.
I still have an aversion to off-road so I joined the Group for elevenses at Wisborough Green. This was at the former Penelopes Cafe, now reopened under new Owners as the Old Mill Cafe.
After elevenses the rain came on quite heavy. While the rest took to the tracks I headed by road direct to The Blue Ship, The Haven NW of Billingshurst for lunch.
I managed one picture under the shelter of a sun? shade outside the Pub as everybody was getting ready to leave.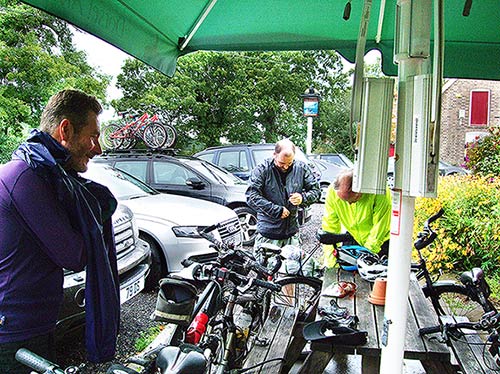 Edwin
Posted by RideLeader at 17:31 BST