Sunday 19th July. Ride to Selborne.
Weather didn't look too promising first thing with a heavy shower lasting until 9.00. As soon as it cleared I rode on up to Chichester to make the 9.30 start. Linda was unable to make it as leader and she had rung Colin to take over. As it turned out there was just Colin and I on the ride and we shared the lead.
Weather for the day was not as bad as it might have been with only a couple of short showers of heavy drizzle mid morning clearing to dry with sunny spells in the afternoon. The wind was very strong but mainly side on and we were quite sheltered by hill and trees.
We rode via West Ashling, Funtington and then the B Road to Compton and Harting. We came across a constant stream of Cyclists coming the other way taking part in a triathlon based on Chichester. We stopped for elevenses at Compton tea rooms. Then it was on via Harting and across to Petersfield bypassing this to the south. Then it was on to a little lane from Steep to Steep Marsh and Oakshott and Hawkley with a large number of ups and downs and hardly seeing a car. We made our way on more lanes to Selborne and lunch at the Queens Head. This has seen better days but was comfortable and did reasonably priced sandwiches.
The pub cat was the only other occupant of the lounge bar. The cat was very standoffish at first but soon became very friendly when my Tuna Sandwich arrived.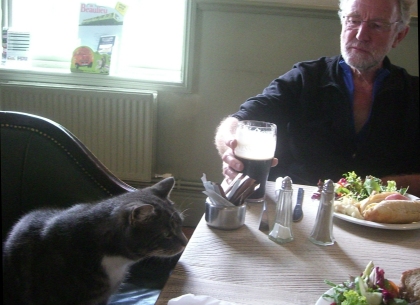 On the way back it was more quiet lanes and climbs via The Warren. Then we joined a byroad down towards Petersfield whose twisting turns have led it to be nicknamed Little Switzerland. I practised my Alpine descending skills. Then it was a byroad across to Stroud and Ramsdean and a lane to join the road to Buriton. A sharp climb up the hill and then the long descent through the woods and on to Finchdean and then Rowlands Castle for tea.
We returned to Chichester on the South Coast Cycle Route via Westbourne and Woodmancote and made our ways home. Mileage from Chichester was 60 and my mileage from Pagham was 70.
Edwin
Posted by RideLeader at 21:05 BST