Majorca. Saturday 16th May. Return home
Today there was time in the morning for packing and bike packing. Some of the group went out for a fry up breakfast.
At 12 we and bikes were picked up by 2 minibus taxis arranged by Avryl.
Majorca Airport earns special brownie points for having some special luggage trollys designed for bikes. See picture below.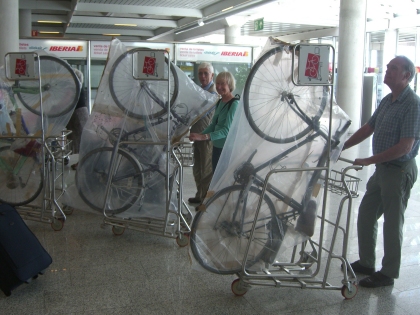 There was no problem at all with easyjet staff over transparent bike bags. Must be fewer jobsworth types in Majorca.
Richard and Elizabeth who were booked on a later flight managed to get transferred to our flight taking the last 2 seats.
The flight went well with good views over Palma. As usual the clear views faded to cloud as we approached England and also a drop in temperature to adjust to.
A very good holiday which everybody enjoyed and well organised by Avryl.
Edwin
Posted by RideLeader at 22:02 BST