Sunday 15th June. Cafe to Cafe Ride
Today the weather was dry though mainly cloudy and cooler than of late at about 18C.
Arthur was the leader today and he was joined at Chichester Cross by Lynn, Avryl, Graham, Martin Hines, Keith Dodman, Harvey, myself and Brian a Havant member joining us so 9 out on the day. We also coincidentally met at the Cross John Maxim cycling home from the ferry at Portsmouth after a week in the Dordogne.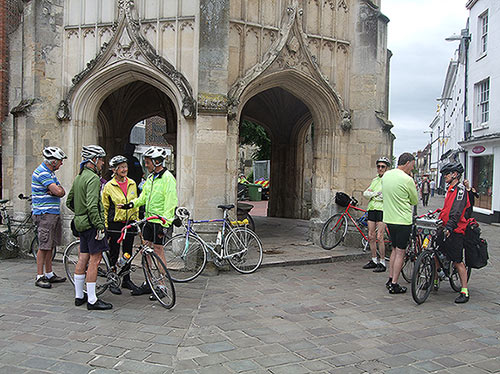 Arthur led us out via the Centurion Way and Lavant to the days first Cafe stop at the Goodwood aerodrome cafe. With the inside full we went on the outside terrace. However we were distracted by a helicopter practicing hovering most of the time we were there.
Next we continued on lanes via Westerton and Waterbeach followed by a few hills added to the menu riding via Halnaker and Eartham before descending to our lunchtime Cafe stop at Aldingbourne Country Centre Cafe.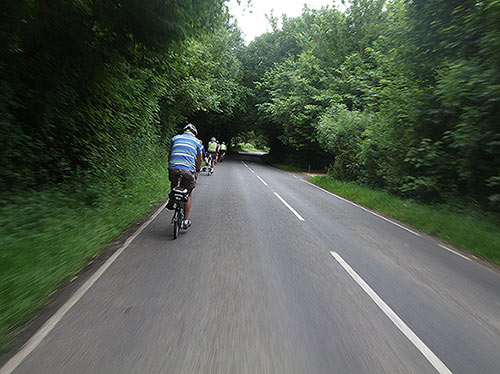 When we arrived some other cyclists were just leaving and they stopped to admire Keith's Bamboo Bike. Following a suggestion by Graham I decided to add another admirer having another interest in bamboo.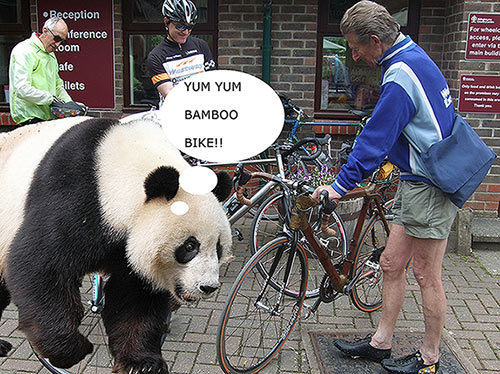 The selection of the Panda is credited to usename OZinOH through Flickr creative commons license. A link to the original Panda Picture is http://tiny.cc/ktdihx
We then continued on lanes including Slindon Bottom Road with beautiful views of Slindon Woods.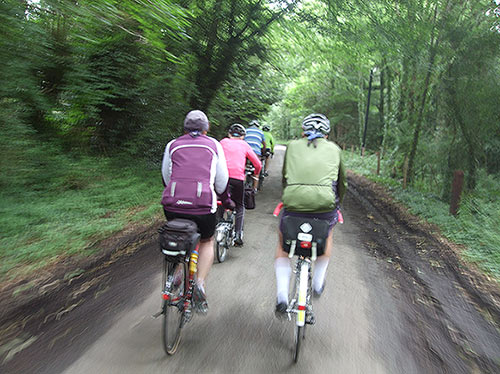 Then it was another climb up to Slindon and down to The Forge Cafe and a tea stop. This was extended a bit when Graham found he had a puncture and everybody gathered round for the cycle sport of watching the mending of a puncture.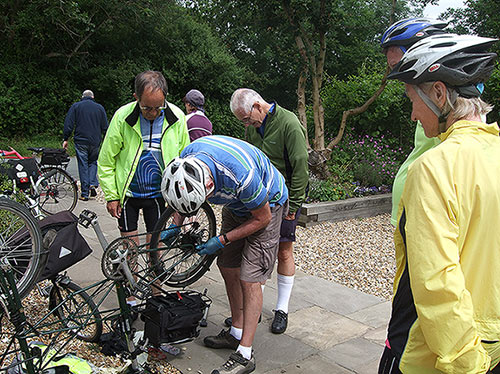 We continued via Walberton. Most of the group headed back from there to Chichester. I split off to return home via the Barnham cycle path to Flansham.
I took time out to explore the new road being built for the Bognor bypass near Flansham. A footpath took me from the Barnham path to the new road which is blocked from traffic by 2 sets of barriers. My route was only possible on a Sunday when there is nobody around to say no. I got through the first set of barriers through a small gap. Then it was on to enjoy a tarmac road which has not yet seen a car.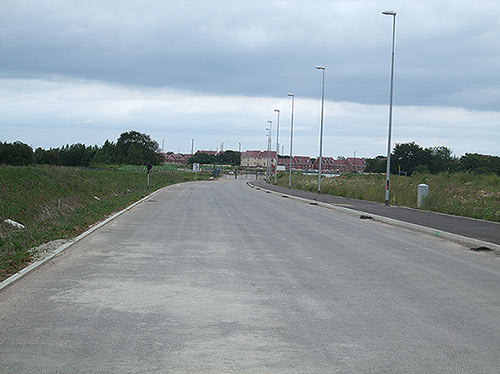 The second set of barriers was more difficult. Part of the side barrier was laid flat but on a steep bank so I had to scramble down that. Then it was on to the open section of road and on via Flansham.
Mileage for the day from and back to Chichester was about 30. My mileage from Pagham was about 35.
Edwin
Posted by RideLeader at 20:23 BST