Thursday 29 May, Murrell Arms Barnham
John was the leader with a little help from Graham.
There were 7 at the start at Felpham Leisure Centre...the usual suspects being Julian, Graham, Carol, Steve, David, John and new rider Michelle out for the first time. Harvey met us at the pub having mistaken the start time and found no one else there. The route was via south and north Bersted, Shripney Lane, Woodgate and then alleyways.
The route continued via the Wilkes Head in Eastergate lane, and then on to Barnham and the Murrell Arms where Graham took a quick shot of the group.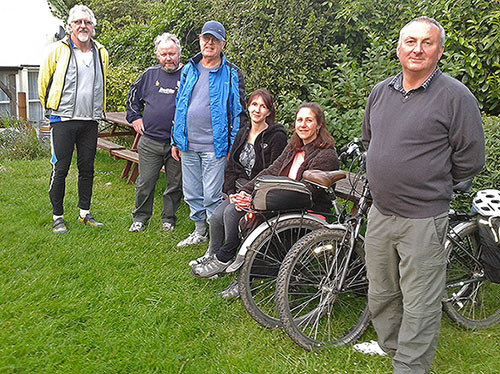 Edwin joined after Time Trialing. Most returned on the Barnham path while Edwin and John returned on road via Yapton.
Round trip about 14.5 miles.
Graham
Posted by RideLeader at 00:01 BST
Updated: Saturday, 31 May 2014 11:11 BST