Wednesday 26 September Ventoux Holiday
There are 4 of us on this trip, Edwin, Peter Wilson, Dave Fox and Richard Boulton. We travelled to Dieppe last Thursday with bikes on Peter's Car. On Saturday we travelled down to our base for 7 days at St Didier close to the foot of Mont Ventoux. Athough there is free wireless Internet at our Gite and Peter has his laptop unfortunately I cannot copy to it the photos taken while cycling with my compact camera as there is no device to read an SD card. I do however have a device to read the different memory card on my SLR Camera so a few of those pictures have been added to this Blog. The cycling pictures will have to await my return in a week.
We arrived at our Gite here last Saturday. Our accommodation is not exactly Spartan as can be seen from the picture. We have all of the house with 4 bedrooms.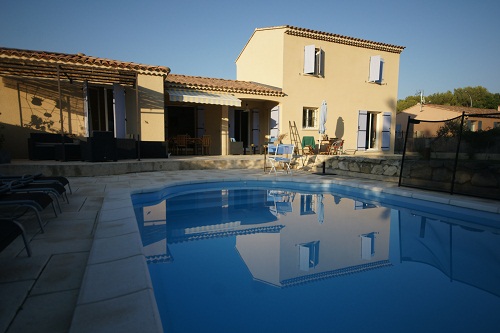 From the weather forecast we decided that last Sunday was the best day to launch our assault on the summit of Mont Ventoux. Dave decided not to do it as he had ridden up it before and Peter decided to ride only the lower slopes. Peter drove Richard and I with the bikes the 25 miles to the start point at Sault. The day started sunny and clear but high cloud gradually moved in to cover the very top. The climb is 27 Kilometres with the last 6.5 klm's the steepest by far where the road climbs above the tree line. We eventually got to the top where Peter had driven up and took our pictures in the cloud which covered to top 50 metres of the climb. We cycled down back to Chalet Reynard and then a different route down on a steep winding descent to Bedoin and back to base. 39 miles and 3910 ft of climbing.
On Monday we did a great half day ride into the peaks of the Dantelles mountains with some spectacular hilltop villages.
On Tuesday it was car assisted with the bikes to Pont le Gard a spectacular 3 arched Roman Aqueduct.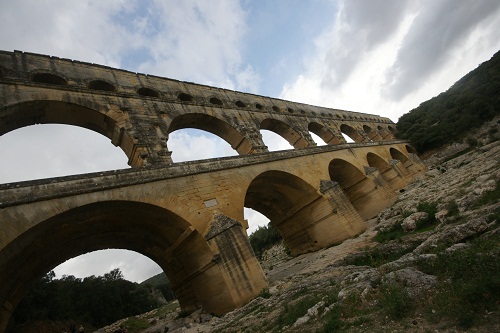 After viewing the Aqueduct we rode an afternoon loop on lanes to the west. This include a town called Saint Maximin!
Today was wet with showers and high winds so we went by car to Avignon and viewed the Popes Palace used to house the Pope when the Papacy moved from Rome to Avignon for a period in the 14th Century. The picture shows one of many great Halls.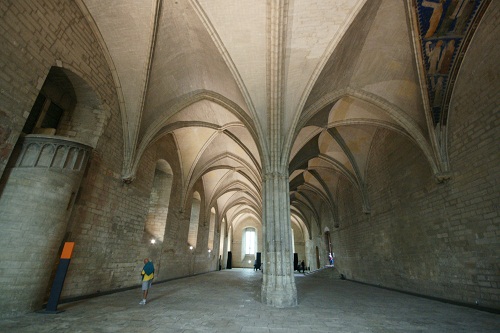 Tomorrow we plan a bike ride over the Col de Murs near Ventoux.
Edwin
Posted by RideLeader at 21:44 BST