Sunday 15 July. Rides to West Marden and Cranleigh
There were 2 rides today, one short and one long. Today was finally dry and even warm when the sun came out. There was a lot of cloud and compared to the last few weeks fairly light winds. As a result there was a very good turnout on both rides.
Harvey led the short ride to West Marden and he was joined at Chichester Cross by Avryl, Christine, Arthur, Lynn, Alan, Liz, Debbie and 4 riders from the Moulton Club so 12 in all.
Harvey led the group on lanes via Westbourne to stop for elevenses at Stansted Garden Centre Cafe. Then it was on to lunch at The Victoria, West Marden. Arun Adur section were also due for lunch at West Marden but nobody arrived.
After lunch the group returned via the scenic lanes round Bosham and the Harbour before continuing to stop for Tea at Fishbourne Roman Palace Cafe.
Anne led the long ride to Cranleigh also starting from Chichester Cross but with a much earlier start time of 8.30. She was joined by Colin, Roger, Gill and Rex. John Maxim joined the group at Elevenses making 6 in all.
The group headed via Fittleworth and Bedham to stop for Elevenses at Kirdford Stores Cafe. Then it was north over the border into Surrey for lunch at Cranleigh Garden Centre. On the way back John and Rex spit off while the rest took lanes via Chiddingfold to stop for Tea at Lurgarshall Winery.
Harvey and Anne supplied info for the Reports.
Below are a few more pictures. The first one was taken on the second day of watching the Tour de France near Dieppe. This was on Stage 5 at a small village near Dieppe with Mark Cavendish centre stage in his World Champions Rainbow Jersey. The picture started fully sharp and had some zoom effects added in Photoshop.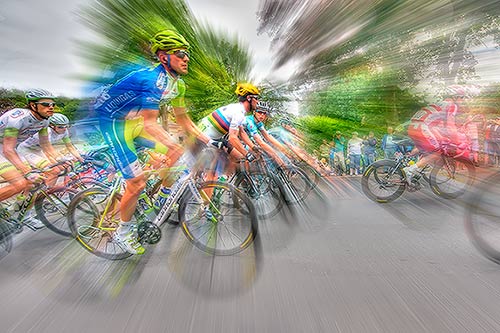 The next one is of a futuristic corridor at Kings Cross underground station taken in June.
The next one is of the Angle Underground Station on the Northern Line.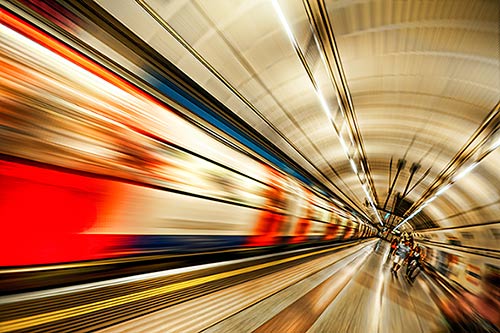 Edwin
Posted by RideLeader at 21:17 BST