Sunday 26th May. Ride to Southsea.
I was the Ride Leader today and the weather was perfect with sun all day and temperatures up to 17C. Finally shorts and short sleeves came out.
I was joined at Chichester Cross by Harvey, Gill, Philip, Chris, Anne Conway and Sue Howe.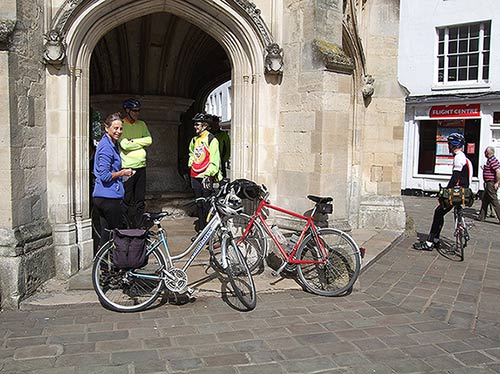 We took the South Coast Cycleroute lanes via Woodmancote, and Westbourne to stop for elevenses at Cafe Nero, Havant. Chris left us after elevenses to head home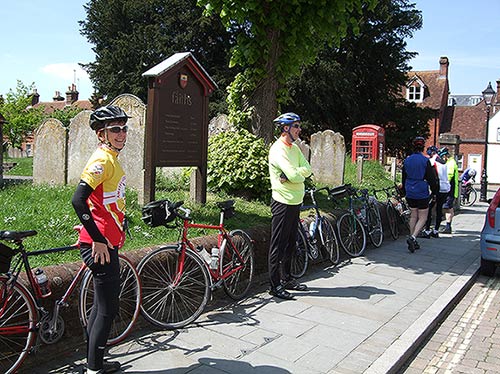 Then it was on some backstreets to Cosham. From there it was cyclepaths alongside the Hilsea Inlet which looked especially good in the sunshine and at high tide. Then it was more cyclepaths and backstreets including the entrance to the Continental Ferry Port. I missed out on leading the group via France and instead it was more cyclepaths and backstreets passing close to the Spinnaker Tower before heading down the street towards the Isle of Wight ferry. That was missed out though and it was on to the streets of Old Portsmouth.
Then it was on to the Southsea seafront road and a good tailwind on to the Royal Marines Museum and the Quartermasters Cafe. The Cafe can be accessed without needing to pay to go into the Museum. The food was good and at reasonable prices so well worth a return visit sometime.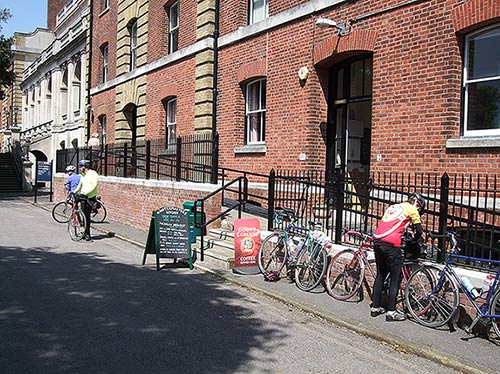 The return route headed towards the Eastern Road Cyclepath. First though to avoid the traffic I headed for the shoreline and took a footpath along the shore until we joined the cyclepath. This follows the line of the shore, over a bridge and then following the A27 but separated from it by trees.
Then it was on to a path alongside an Inlet and over a bridge across the A27.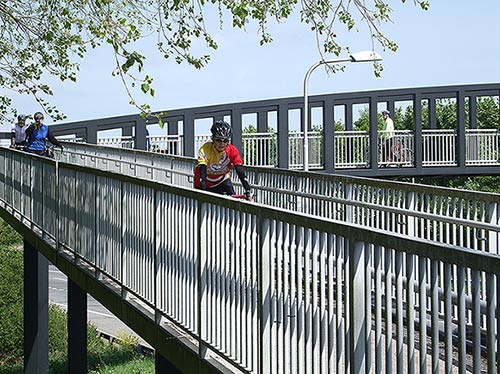 A short way further on we came out on familiar territory on Bidbury Lane at Bedhampton. Then it was a short way to Havant and then on to a tea stop at Heidi's, Emsworth.
We split up after tea with Harvey, Gill and Philip heading straight home on the A259. I led Sue and Anne back to Chichester on the lanes via Westbourne.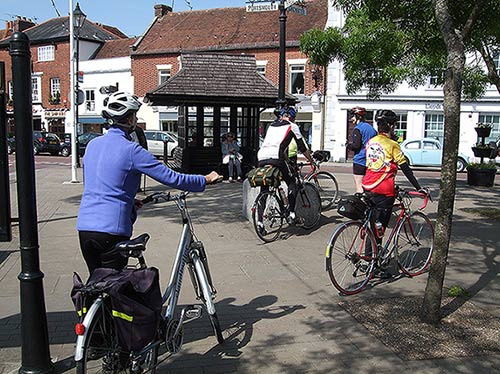 Mileage for the day from and back to Chichester was 42. My mileage from Pagham was 54.
Edwin
Posted by RideLeader at 19:53 BST