CTC ride 12th May to Exton led by Sam Roberts
Sam waited alone at Chi Cross while the South Downs Velo boys gathered in great numbers. A new recruit rolled up only to be drawn into the South Downs Velo ride. But wait, a call from Colin to say he would be there soon. Sam phoned Jeff to say he felt rough and was only likely to go as far as Hambledon (this was later denied!) which persuaded Jeff to start at Chi rather than Rowlands Castle?
A peloton of 3 set off taking turns into the strong head winds at a pace more suited to South Downs Velo. The route was A259 to Southbourne and Westbourne. A brief stop was allowed at Rowlands Castle before another fast paced ride to Hambledon. This is where there is a quaint cafe where you can still get tea bag tea and instant coffee, or is it the other way round? Anyhow racing cyclists were queuing outside and Sam decided to continue onto Exton even though Colin was setting up a punishing pace.
Jeff decided enough was enough, especially as heavy rain was forecast , ate lunch and rode at a moderate pace back to Chichester before the rain. (45 miles) Sam and Colin managed to get back to Rowlands Castle before the rain but after that it was wet,wet,wet . (60 miles for Sam 80 miles for Colin having rode from Barnham . Here is a picture of how Sam felt after the ride.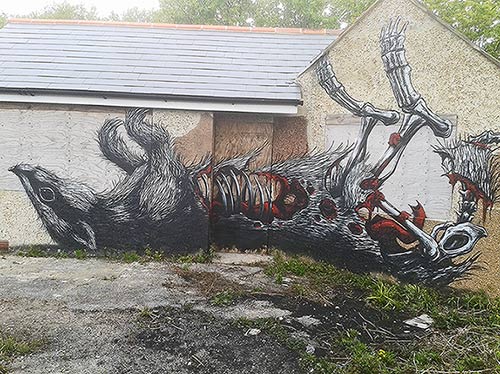 Jeff
Posted by RideLeader at 12:15 BST