Sunday 11 September. Ride to Selborne
Today Anne was the leader but there were only two of us on the ride with myself (Edwin) being the only other taker.
The weather was better than expected and although very windy it was dry save for one short shower after lunch and even some sun.
Anne took us on a route via West Stoke where we picked up the signed route of The Southern Sportive, a major local Sportive starting in Petersfield with 800 riders. Without knowing anything about it Anne had managed to plan a route taking the Southern Sportive Route all the way to Petersfield. We started seeing riders at West Marden.
We rode via Compton and then across to the climb to Buriton with a nice ride through the beach woods on the way up.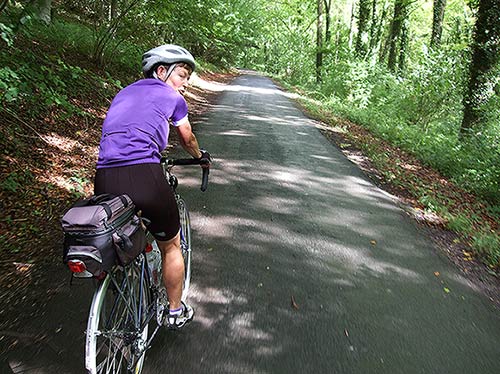 Then it was on to Petersfield Square for elevenses at Costa Coffee.
Then it was on via Steep, very appropriate as we climbed a vertical wall and then saw the Village sign at the top. Then it was on a rolling ride with scenic views on very quite lanes via Oakshot and Hawkley. As we neared Selborne I was stung on the arm by a wasp. I think it was very ill tempered of it to blame me just because it wasn't looking where it was going (like a road rage motorist)
I bought some antihistamines at the Village Shop, must remember to pack some on the bike. As we both had sandwiches we stopped for lunch in the Churchyard with a nice view.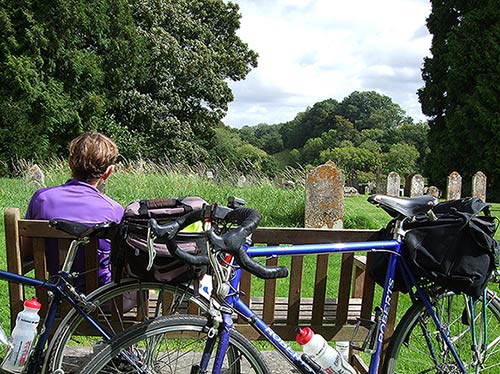 We had a look at the Pub afterwards to make sure nobody had come direct. The return ride was more quiet, little tried, lanes via Tilsted, Froxfield and Ramsdean where we picked up the Sportive Riders returning to Petersfield. They generally came past us with a whoosh..
Then it was the very steep, 18% by my bike computer, climb of Buriton Hill and down to Rowlands Castle for tea and some of their excellent Apple Pie and Ice Cream. The return was on the usual route via Westbourne and Woodmancote.
Mileage from and back to Chichester was 67. My mileage for the day was 80.
Edwin
Posted by RideLeader at 21:22 BST