Sunday 28th July. Ride to the George and Dragon, Dragons Green
I was the leader today and I was joined at Walberton Pond by Sam, Colin and Jeff. Gill also met us there to say hello before going on her own short local ride.
The weather was dry and warm, sunny with scattered clouds and dry apart from one short shower in the afternoon. We enjoyed a stiff SW tail wind.
We headed north from Walberton to join the A29 for a short while before turning off on the quiet lane to Madehurst.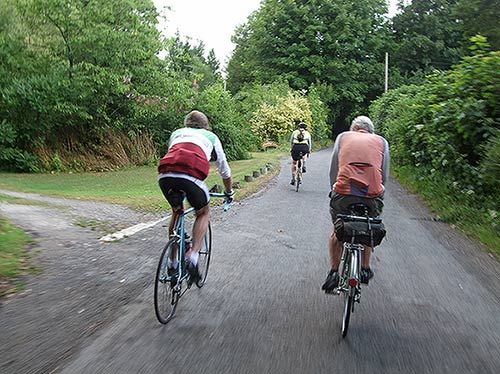 Then it was down Houghton Hill and the usual route via Amberley and Rackham to stop for a welcome 11s break at Wiggonholt.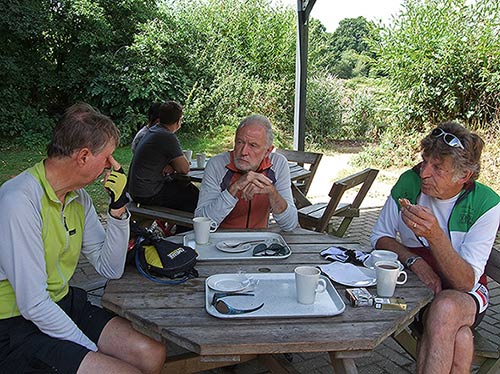 We headed on via Nutbourne and West Chiltington to join the B2139 heading north for a while. Then it was on to lanes via Broomer's Corner and up to Dragon's Green. There was a large Marquee in the back garden as the Landlord and Landlady had got married yesterday. Not a lot of food was on but Sam managed to get a Soup while the rest of us went up the road to eat our sandwiches. We returned to join Sam for a drink.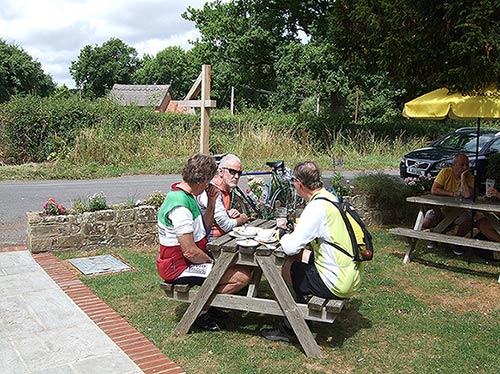 For the return ride it was lanes via Coolham and then back to Broomer's Corner. Then it was a long beautiful lane south to Ashington and a lane across to Walminghurst Church where we stopped for a brief break and a look round the Church.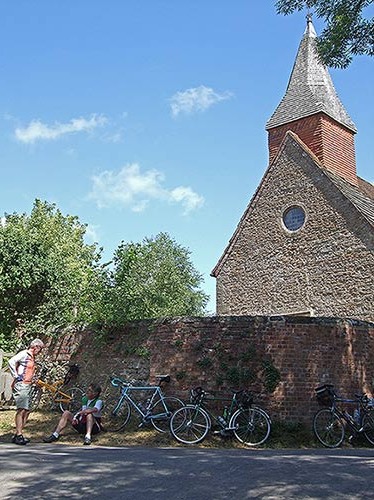 Next it was lanes on the edge of Storrington and after going through Storrington taking the route through Parham Park. Then it was back to Amberley and a stop for tea at the Village Tea Rooms. Sam had a cream tea and couldn't manage all his cream so I had cream on my flapjack (yes I know, weird!)
As we were nearly finished a light shower started. Putting on the waterproofs did the trick as the rain stopped by the time we got to Houghton Hill. The sun came out at the top of the hill and we headed back via the Madehurst lanes.
Mileage from and back to Walberton was about 53. My mileage for the day was 65.
My latest HDR picture is another one of Chris Froome on the Mont St Michel Time Trial. HDR enhanced plus blur added to the background with Photoshop.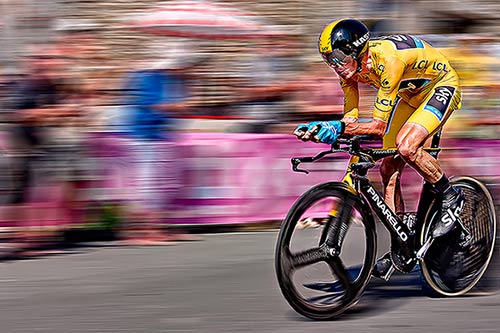 See more at my Photo Blog at http://edwinjonesphotography.com/blog/2013/7/chris-froome-tour-winner-time-trial
Edwin
Posted by RideLeader at 18:54 BST