Arun Leisure Centre to The George, Eartham

John was unable to lead this ride so i was deputized.
This is quite a long evening ride, and necessarily includes a couple of hills so it was good to see 6 at the start point - Julian, Graham, Jo, Tony, David, and guest rider Dot.

I planned a circular route so we set off via Flansham and the Barnham cycle track to Eastergate, then via the unsurfaced Northfields Lane to Level Mare Lane, then across the A27 to tackle the gentler of the hills past the Aldingbourne Country Centre and Mount Noddy. Eartham was reached after about 65 mins cycling and the hill made sure we had worked up a thirst.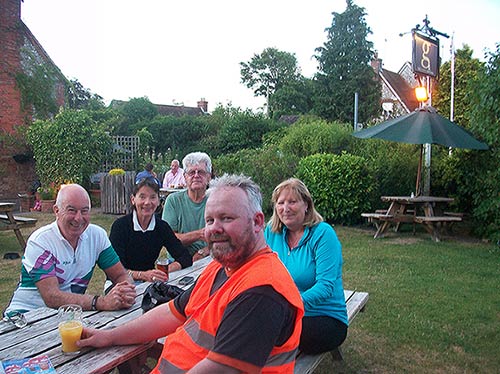 Edwin joined us later at the pub, having been time-trialling, and he rode back with us to Bognor.

The return half of the circuit involved climbing the short but challenging north side of Eartham Hill, then it was over a mile of freewheeling back to the A27. Some of us managed over 30mph.

Then, apart from a little diversion on quieter backroads at Fontwell and Eastergate it was back down the A29 all the way to Bognor. The A29 is normally quiet at this time of night, but was much quieter than normal tonight owing to the fact it was closed at Eastergate roundabout for overnight re-surfacing. With bikes we circumvented this closure, not quite sure what the diversionary route for cars was however.

The round trip mileage from and back to the Arun Leisure Centre was 18.0 miles, I had clocked up 21 by the time I got home.

Graham
Note from the Peloton
Circumventing the closure involved weaving between giant road removal and tarmac laying machines near Eastergate runabout, plus crossing stretches of torn up road and escaping to pavements and then a narrow path from the Wilkes Head at times between rows of nettles!! Julian mentioned being tested to the limits tonight!!
Edwin
Posted by RideLeader at 00:01 BST