Sunday 20th June. Strawberry Tea Ride
Today the weather was dry and sunny with some cloudy spells in the morning. A northerly wind kept temperatures down to about 18C.
Gill was our leader and she was joined at The Cross by myself (Edwin) Harvey, Sam, John Wickens and Sue Howe.
We took a route out via Clay Lane, West Ashling and then the B Road via Funtington and Aldsworth where we stopped briefly to regroup.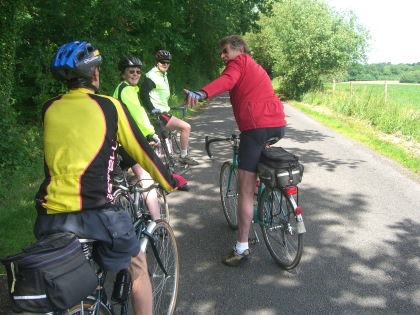 Then it was on to Stansted for elevenses where our usual bike park had been taken over by more tables so we parked them on the grass. We met there a big group from Bognor CC on their morning Club Ride.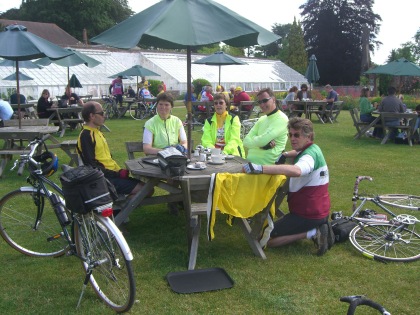 After elevenses it was up Forestside and a lane along the top before a fast descent to West Marden and on to Compton. Then it was a quiet lane with a fair few ups and downs. A final climb took us to North Marden.
After a short ride along the B Road it was a fast descent to Hooksway beating large numbers of walkers who later formed a queue out the door. Colin joined us after making his own way there.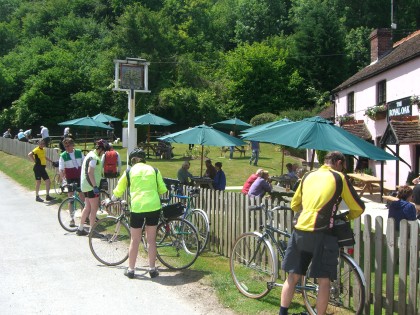 After the sharp climb out of Hooksway it was a fast descent down the Chilgrove road and on via Lavant to Tangmere for the Strawberry Tea at Avryl's. We were soon tucking into Strawberries and cream, Carrot Cake, shortbread, orange juice and teas and coffees.
We were joined there by Eric, Richard, Arthur and Lynn, Brian and Brian and other friends of Arthur. Dave Glue joined us late after having ridden the London to Brighton Bike Ride. 19 of us gathered altogether on Avryl's lawn.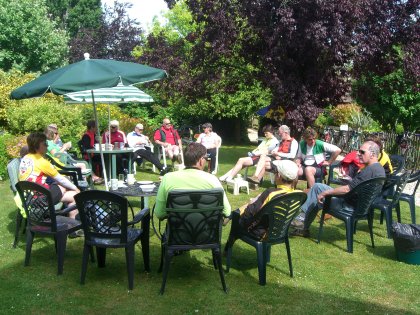 Mileage from and back to Chichester was about 35. My mileage was 45.
Edwin
Posted by RideLeader at 19:46 BST