Saturday Ride-Bognor Regis library to Aldingbourne Country Centre
It was a dull and cloudy today, but the wind was warm and it never looked like raining as four of us set out from central Bognor.
Val, Steve, Carol and I headed eastwards via Bognor Golf Club then off-road through Flansham to join the Barnham cycletrack. From Barnham it was on to Eastergate, where the village fete was in full swing as we passed by. Briefly making use of the A29 we turned off-road again up Northfields Lane to join Level Mare Lane. The offroad tracks were puddly but, despite the recent rain, not muddy.
From Level Mare Lane it was life-in-your-hands time as we crossed a very fast and busy A27 and the final few yards to Aldingbourne Country Centre. Waiting for us was Edwin, resplendent with new Mercian, and Alan & Liz, who had ridden up earlier to check out a new track for Sunday's ride.
As soon as we arrived the clouds moved over, the sun came out, and a warm afternoon began to turn into a hot one.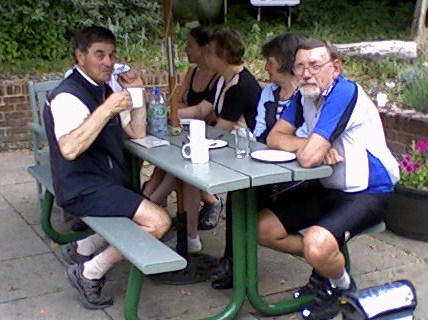 Tea stop at Aldingbourne Country Centre - Low Resolution, resized image
Edwin joined us for the run back to Bognor, which was via Crockerhill, Aldingbourne Village, Hook Lane, Westergate, Shripney and North Bersted village, completing a circular ride of about 17 miles. My mileage starting and finishing at home was 23.3.
Graham
Posted by RideLeader at 22:40 BST
Updated: Saturday, 12 June 2010 23:21 BST