Sunday 5th April. Ride to Fernhurst
The weather today was much improved over last Sunday with temperatures up to 10C, light winds and the occasional glimpse of the Sun. I was the leader and I was joined at Chichester Cross by Sam, Paul, David and Rex. We were later joined at lunch by Graham Young so 6 out during the day. A cyclist from another group volunteered to take a picture of us at the start.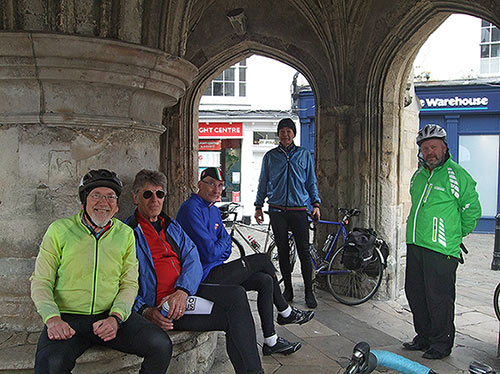 We headed out via the Centurion Way, West Stoke and Funtington. Then it was the B-Road up via West Marden to Compton where we were looking forward to a stop for hot drinks. As we arrived we saw the closed sign up. They had opened for a few hours for papers only. Anybody would think it was Easter Sunday! All garden centres and their cafes have to close on Easter Sunday so there were not a lot of choices. We took a rest outside anyway and as Sam had a streaming cold he decided to head home from there.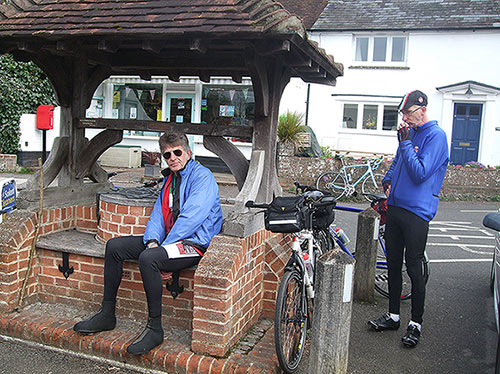 The rest of us continued up the hill and down to Harting. Then it was on a lane via Elsted and Elsted Marsh to Stedham. It was north from there on a lane I have not used for many years up a long hill via Redford. That is a few houses and a garage with pumps looking to date back pre-war. Then it was down and more lanes to Fernhurst and lunch at the Red Lion. Due to the lack of an elevenses stop and a fairly brisk pace we arrived at the Pub at 11.50, Horsham Section quality!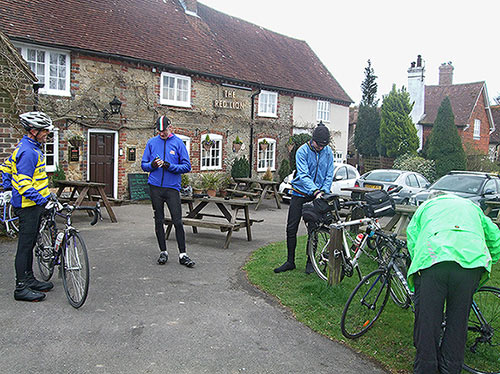 As we were about to leave we were joined by Graham Young who had ridden up to meet up with his cousin Sam with whom he was not best pleased! Graham rode back with us as far as tea.
In the afternoon we rode on lanes via Lickfold. Lodsworth and Selham. Then it was on to Cocking where we stopped for tea at the open Moonlight Cafe though we were the only customers, perhaps everybody expected it would be closed. Then it was on up Cocking Hill and down to Singleton where Rex turned off to head back home to Littlehampton. A little further on Paul turned off to head back to Selsey. David and I returned via the Centurion Way where David got a front wheel puncture though it was soon repaired.
Mileage from and back to Chichester was 55. My mileage from Pagham was 66.
My latest pictures to be processed are first an image taken at Whiteleys Shoppping Centre which is in Bayswater west of Paddington.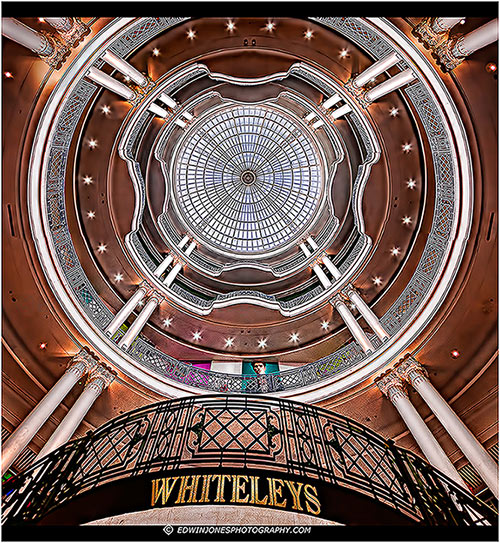 For a larger picture and more details see https://www.flickr.com/photos/edwinjones/16787885748/in/photostream/
Next another spiral staircase, this one converted to Mono which I thought looked better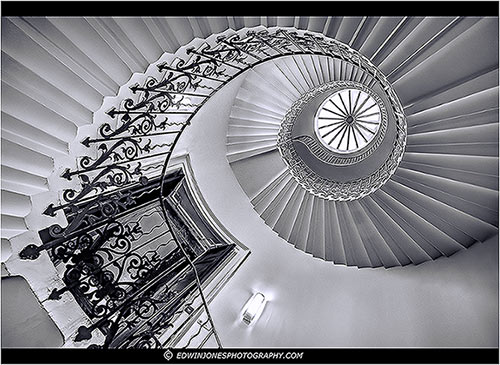 For a larger picture and more details see https://www.flickr.com/photos/edwinjones/16819542868/in/photostream/
Edwin
Posted by RideLeader at 19:04 BST