Sunday 24th July. Ride to Southsea and the Americas Cup
The weather today was cloudier than of late though still with some sunshine and temperatures up to 21C and a NW wind..
I was the leader though we were a little short on numbers with only Colin joining me at Chichester Cross for the 9.00am start. We headed out via the Centurion Way, West Stoke and Rowlands Castle where we stopped briefly to chat to John Maxim heading the other way after he had stopped at the cafe. We continued to our elevenses stop at the Garden Centre Cafe at Horndean.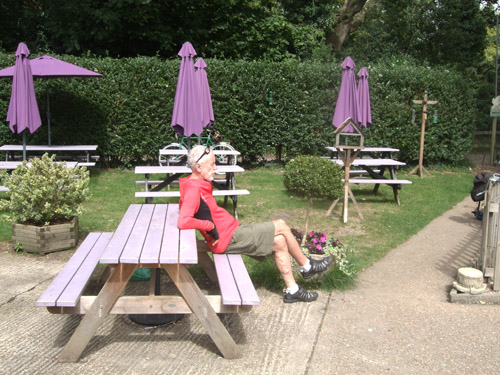 Leaving Horndean on a cyclepath my gears jammed and I just missed getting my feet out of my pedal straps in time resulting in a slow motion stationary fall as people watched on from a bus stop opposite. After applying water for road rash and plasters for cuts I was able to continue.
We continued with a lane via Cathrington and then a very quiet route coming out north of Denmead. We continued across to Worlds End, somebody else had an off day long ago when they named that village. Then it was on lanes to Southwick and a long gradual climb to Portsdown Hill. We gained a magnificent view over Portsmouth Harbour before descending at speed to Cosham.
Then it was the signed cycle route on the western side of the City passing the continental ferry port and the Portsmouth Isle of Wight car ferry port. Then along the sea front towards the War Memorial with a great quiet road closed to traffic. We stopped a little before the Memorial for a beach picnic lunch and viewed the Americas Cup Racing with few crowds by the simple expedient of being a long way from the action in the free area. Small compact at maximum zoom plus a crop for the pictures.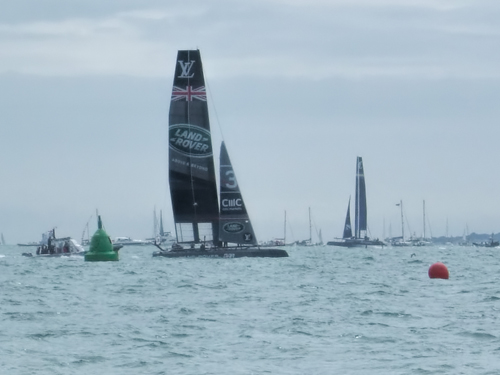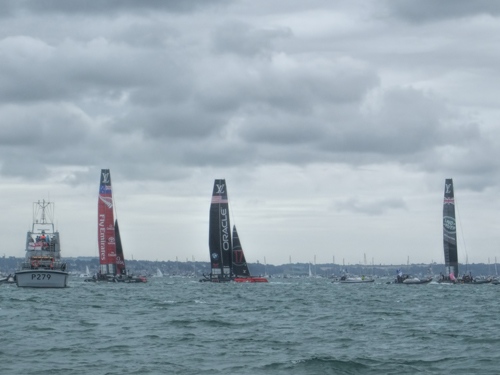 The return was on the Eastern Road Cycleroute. Near Havant we came across some cricketers desperately searching a hedgerow for their lost cricket ball. Thanks to Colin for the pic.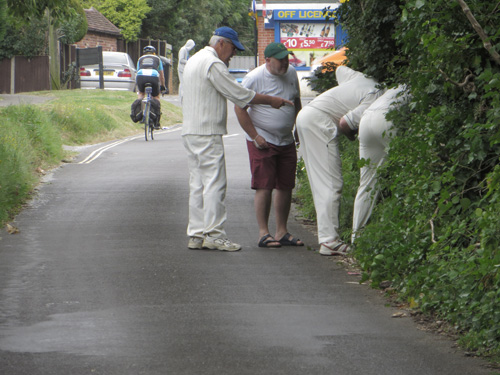 After a tea stop at Cafe Nero Havant we headed back to Chichester. Mileage was 57 from and back to Chichester. My mileage from Pagham was 67.
Edwin
Posted by RideLeader at 22:03 BST
Updated: Sunday, 24 July 2016 22:05 BST