Sunday 8 December. Ride to Sutton
The weather today was good with a fair bit of sun, dry and milder than of late reaching 10C.
I was the leader and we met at Chichester Cross. I was joined by Sam, Mark, Andrew, Ian and Tony. We left a few seconds before time at 9.30. It must have been 30 seconds later that Rex arrived and missed us. He made his own way to Petworth to meet us at elevenses.
To avoid the pedestrians and market I headed out briefly down South Street before turning into West Lavant. Andrew and Ian missed the turn and went on down South Street. After a bit of searching we eventually met up again at the east end of East Street.
The route was then on via Westhampnett and lanes via Waterbeach to the long climb of Pillygreen Hill and a regrouping at the top.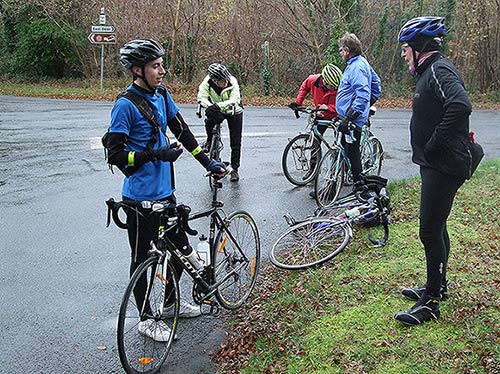 Then it was along the ridge road with great views down to the coast. We then joined the main road via Upwaltham and on to a fast descent of Duncton Hill. It was a sharp right at the bottom onto a quiet lane. Fairly uneventful apart from a squirrel getting in a tizzy and rushing across the road in front of Sam and then back and then back again, remarkably managing to avoid colliding. Coincidently there is a report in Cycling Weekly this week about the manager of Scunthorpe United coming off his bike due to a squirrel going into his spokes. Many fans dressed up in fancy dress as squirrels for the manager's return recently!
We continued on lanes via Shopham Bridge to stop for elevenses at Tiffins Cafe, Petworth. We were meeting Arun Adur group for elevenses and lunch. Dave Fox, Richard and Jo arrived a little late and not long before we left.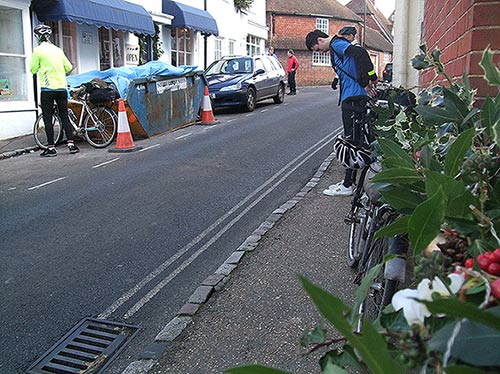 For the ride to lunch I took a direct route retracing the lanes we came in on before taking the lane to Sutton. On the hill before the village some repairs were required as Andrew's bottle cage came undone. After about an hour for lunch we were just going out the door as Arun Adur arrived. Apparently they had taken a long route to get there.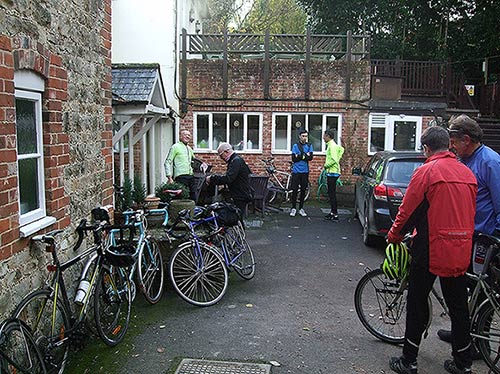 Immediately after lunch it was a short downhill but a very very steep uphill to keep everybody awake. My bike computer registered the gradient as 18% though it felt more. We regrouped at the top by Bignor Church.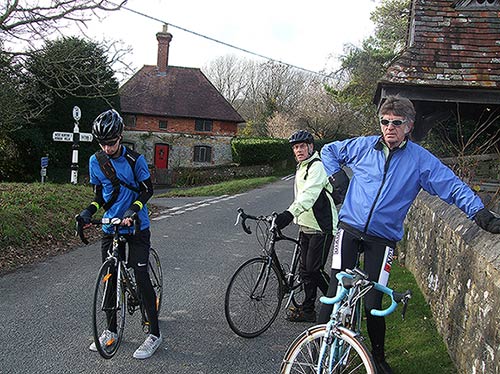 Then it was on past the Roman Villa on lanes via West Burton and Bury and on to Houghton hill and a long climb up the Downs. We regrouped in the sunshine at the top.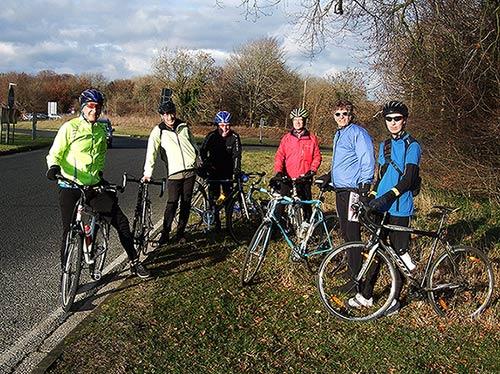 We continued via the Madhurst Lanes and a last climb of the day up to The Spur. We split up at Yapton with most heading west towards Chichester while Andrew and I headed to Bognor via Middleton and the Prom.
Mileage from and back to Chichester would have been about 42. My mileage from Pagham was 46.
I got Andrew to send me copies of his Strava Cycling GPS Smartphone App results for the day. The images below are first a summary, then a map of the route from Bognor and then a graph of the many hills during the day.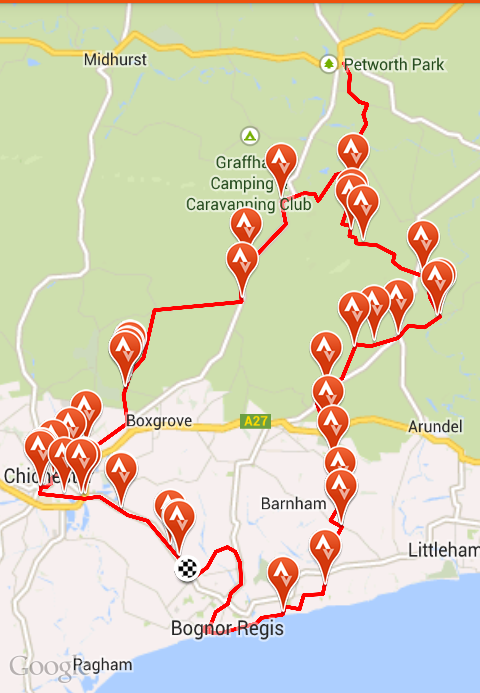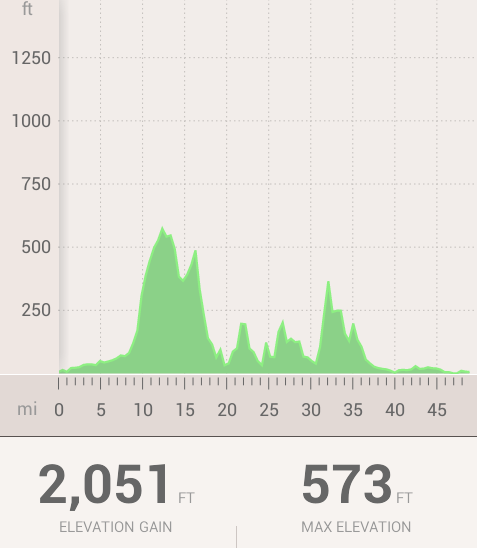 My latest HDR photos below were taken on my last London trip. First a view of St Pauls from the New Change office building a then a I second exposure of a London Bus approaching Big Ben.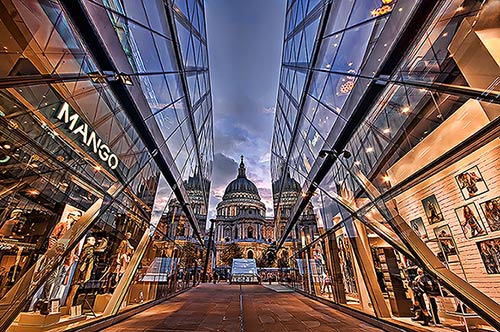 For a larger picture and more details see http://www.flickr.com/photos/edwinjones/11168107014/in/photostream/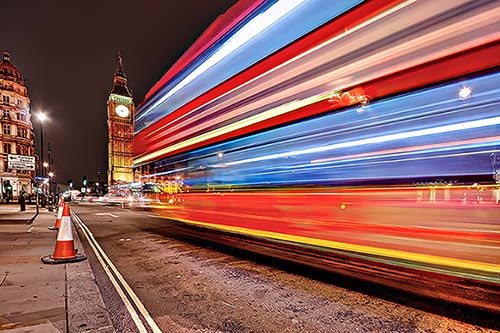 For a larger picture and more details see http://www.flickr.com/photos/edwinjones/11238840736/in/photostream/
Edwin
Posted by RideLeader at 18:05 GMT