Sunday 24th November. Ride to East Wittering.
The weather today was cold and generally cloudy though dry with temperatures up to 8C and a chilly NE wind.
Arthur was the leader and he was joined at The Cross by Lynn, Harvey, Graham, Martin and myself.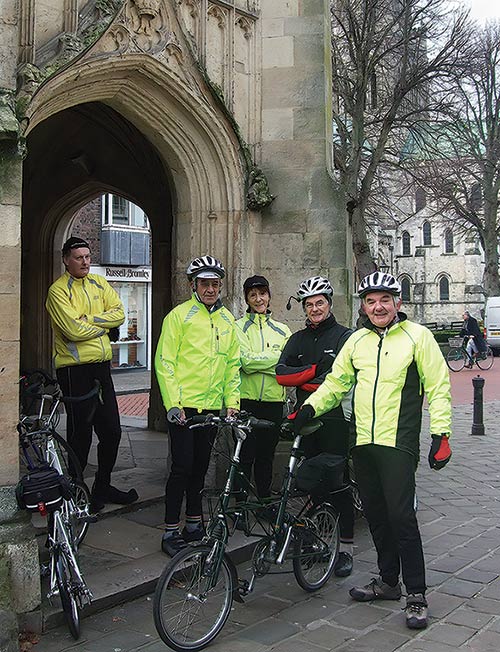 With a number of gleaming Moulton Bikes on display Arthur's route kept well clear of any muddy tracks which suited me as well, preferring not to have to wash my bike. We headed out on West Street and then south on Appledram lane. Then it was a stretch of main road before turning off into the Yacht Basin and a stop for elevenses at the Cafe.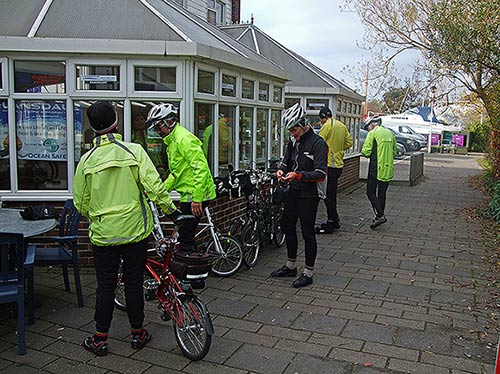 Next it was on over the Canal, Birdham Pool and lanes to Birdham. After a short stretch of main road we did a brief diversion on lanes towards West Itchenor before heading back to the main road and across on to a lane to East Wittering, free of traffic due to a road closure which we got round. Then it was on to the Boulevard Cafe, East Wittering for lunch.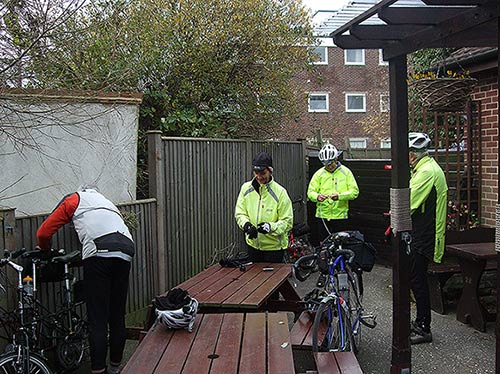 I had a steak and Kidney pie which was an enormous portion which they called a standard size, they also have a large size!! Note to self, never order a large size of anything at this cafe. During lunch we saw one cyclist heading for the beach carrying a large surfboard under his arm. Another cyclist came past towing a kid on a skateboard.
After lunch it was lanes via Earnley, Highleigh and then joining the main road south of Hunston. Then it was back to Appledram and on to Fishbourne Roman Palace for tea. We seemed to be there very early but made up for it with about an hour of chatting over tea.
Mileage from and back to Chichester was about 23. My mileage from Pagham was 35.
My latest pictures to be processed were first an autumn scene on a path at Houghton Woods, Whiteways with a blur effect added in Photoshop.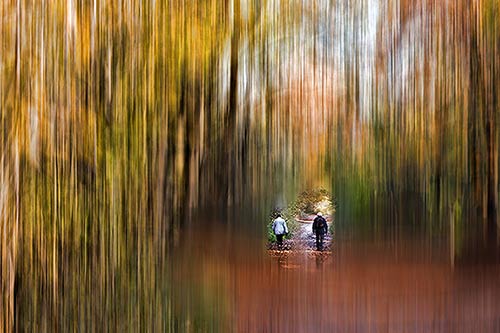 See more at http://www.flickr.com/photos/edwinjones/10922604984/in/photostream/
The next one is a shot of the top of City Hall, London taken in September at Open House.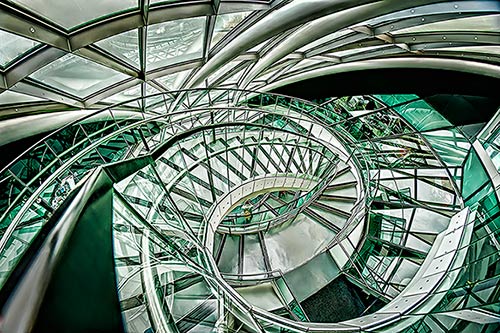 See more at http://www.flickr.com/photos/edwinjones/11006134783/in/photostream/
Edwin
Posted by RideLeader at 19:41 GMT