Sunday 4th October. Wiggonholt and Arundel.
Weather today was dry and sunny in the morning with cloud in the afternoon and temperatures up to 17C in the sunshine.
There were 2 rides today, a long ride to Dragons Green and a short ride to Arundel led by Harvey. On my ride meeting at Walberton Pond I was joined by just Colin and Gill. Colin had to turn back at elevenses to be home by lunchtime so Gill and I decided to go back with him and meet up with the short ride at Arundel.
I led the ride out on lanes from Walberton to the A29 and then turned off on the lanes to Madehurst.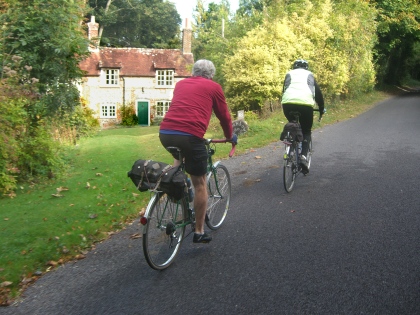 From the top at Whiteways we headed down Bury Hill. I kept pace with the cars on the way down reaching 45 mph. Then it was lanes through West Burton and across to the B2138 for a short way before turning off on the lane to Coldwaltham. We crossed the main road which very unusually was clear of traffic. Then it was lanes to Wiggonholt for elevenses and some cake to refuel.
For the return it was the usual lanes via Rackham and Amberley. At Houghton I led the group left on a lane over the route generally known as the Khyber Pass to Arundel with great views over the Arun Valley.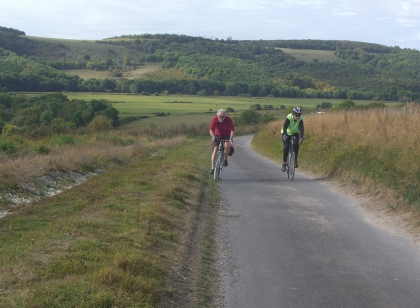 When the tarmac finished the track was bone dry and no problem on road bikes. We said goodbye to Colin at Arundel and Gill and I went on to the Swanbourne Lodge Café for lunch. There had been some worries that this might be closed after we went there on a Wednesday ride a few weeks ago and it was closed. It was open today however and they told us they had shut for a holiday one week but it remains open all week all through the winter. The short ride did not arrive and I later learned that nobody had turned up so Harvey went home.
We headed back via Ford and Yapton where Gill split off to head back towards Chichester. I returned along the coast via Middleton. When I got down to the seafront at Felpham passing a café I heard a voice and there was Harvey and his parents who had cycled down from Barnham for lunch. I stopped for an ice cream and a chat.
My mileage for the day from home was 50. Mileage from and back to Walberton would have been about 34.
Edwin
Posted by RideLeader at 17:06 BST
Updated: Sunday, 4 October 2009 17:15 BST