Sunday 3rd January. Mince Pie Ride
Today was another bright sunny day but bitterly cold below freezing to start with and reaching a maximum of 3C.
I was worried about ice to start with as the roads were very frost covered early on but there had been no snow or rain in the last few days so I rode carefully the short distance on the estate to the main route which was treated. Then it was straight up the B Road to Mary's house at Runcton.
Mary had laid on the usual great spread of mince pies and cakes. Everybody arrived, some by car and some by bike. In the end there were 33 there including Mary.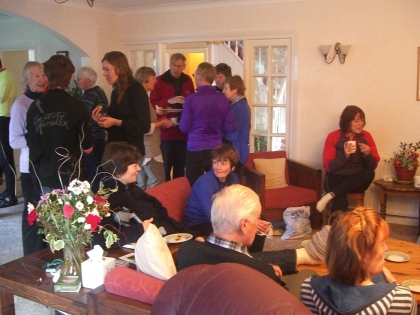 Most people had various plans for the middle of the day before going to Avryl's with some riding home first and then going there by car. In the end Ernie, David and I rode there direct from Mary's and gave the Pub a miss.
We took a longer route via Merston, Shopwick and past the Airfield. Then it was the lane past Goodwood Park Hotel and then across to Boxgrove. I got an extra 0.3 mile in going over the many hairpins of the Tangmere Cycle Bridge.
We arrived at Avryl's first at 1.30 and her warm house felt very pleasant. Gill was also there as Avryl had given her a lift as Gill had her leg in plaster with a possible fracture after falling down stairs last week. Breaking a leg is usually my trick!
Again everybody gradually arrived and tucked into warm mince pies and Stollham Cakes.
I headed back across the Airfield to Oving and then lanes via Colworth. We had seen no ice to worry about during the ride, just some frozen puddles at the side of the road. On the lane towards Colworth there was a flood across half the road from rain earlier last week. Ernie had encountered that in a more frozen state in the Morning on his way to Mary's.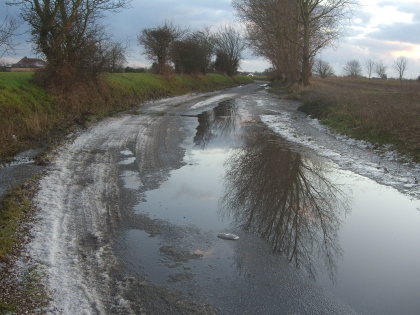 My mileage for the day was 19.
Edwin
Posted by RideLeader at 17:50 GMT