Sunday 22 November. On riding to Queen Elizabeth Country Park and evading showers.
The longer ride today was from Chichester Cross to lunch at Queen Elizabeth Country Park Café near Clanfield. Colin led the ride and he was joined at the Cross by myself, (Edwin) Gill and Anne.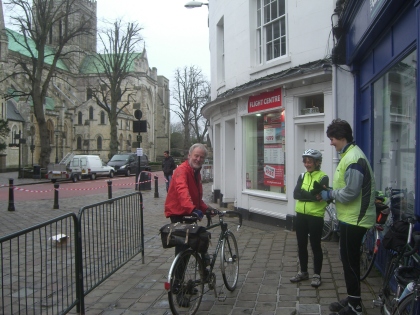 Weather today started dry but deteriorated to showers later in the morning, clearing to sunshine in the early afternoon and a few more showers in the late afternoon, all mixed in with strong SW winds and gale force squalls, a bit of everything really.
An early elevenses was planned for Rowlands Castle and we headed out at a brisk pace on Clay Lane via Woodmancote. We were just on the outskirts of Rowlands Castle when the first light rain started and we got into the cafe in time without needing waterproofs. We were then treated to what the Met Office call a band of organised showers. I think they mean by this that a lot of showers gang up and dropping their loads on you all at once. I looked at the weather rainfall history on the Internet. This indicates rain with colours from light blue for slight to red for very heavy to white for downpour. We got large areas of red and white. This lasted a good 30 minutes. The result was a fair few flooded patches.
Colin had planned on a longish loop via Horndean and was ready for the off when the rain had eased but not stopped. I decided to wait until it stopped and take the direct route to lunch. Gill had visitors this afternoon so headed home when the rain stopped. Anne went with Colin. Leaving the Café the rain had gathered in a nice flood under the bridge.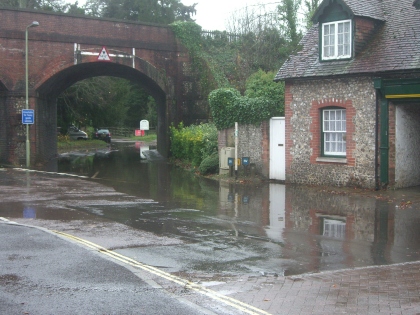 I headed on via Finchdean and Chalton. Soon after Chalton some lighter rain started again but with a gale force squall. Rather than climb up the hill into the open I sheltered in the lee of a high hedge until the clearance came though and the sun came out. A beautiful rainbow formed among the departing clouds.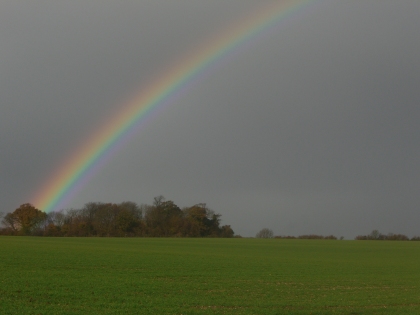 I continued to lunch at Queen Elizabeth Country Park. Colin and Anne arrived 30 minutes later. Their route had taken them up to Horndean and Cathrington. Then it was up to the ridge at HMS Mercury and down to East Meon and lanes round to climb up Butser Hill up the very steep approach. Anne was happy to go that way as it was the first time she had conquered that hill.
The return was in sunshine via Chalton and Ibsworth and the long climb over the ridge to Compton. Then it was was pretty wet and muddy lanes across to the Mardens.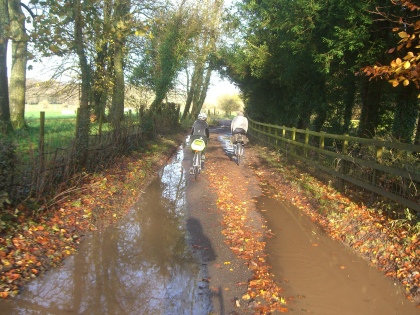 We turned off on the lane via Upmarden to Walderton. Anne had never ridden this lane before so she had a very good day.
We headed back via Funtington and West Stoke where we split to make our separate ways home. One point to note was that as I headed back though Chichester I had to do a diversion due to a 2ft approx flood in the cyclepath underpass near the college.
Despite a fairly atrocious day I stayed dry apart from wet feet due to floods.
Including Colin's loop in the morning mileage from and back to Chichester was about 45. My total mileage from Pagham was 51.
Edwin
Posted by RideLeader at 18:53 GMT