Sunday 5th July. 2 Weald Ride.
Weather today was mixed with threats of showers in the morning which didn't arrive clearing to sunny skies in the afternoon. Temperatures reached about 24C.
There were 16 in all attending this DA Event but attendance from our Section was somewhat disappointing. There were 9 from Horsham, 6 from Arun Adur and just me from Bognor Chichester.
I took the train to Billingshurst, then rode the short distance to Wisborough Green, did a 26 mile loop and rode home. We all started arriving as Horsham members were putting up the Gazebo with teas coffees and cakes available from a Motor Home parked opposite belonging to a couple from Horsham Section.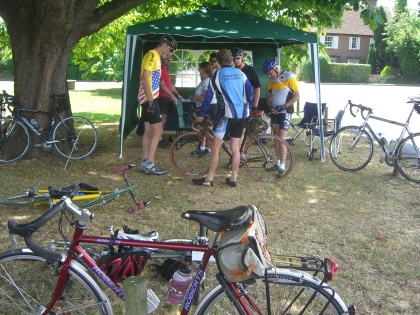 Most Arun Adur members headed up towards Cranleigh on the northern loop. However I had done this for the last 3 years at least so went on the Eastern loop towards Christ's Hospital. John Maxim was of the same mind so it was just John and I.
Normally with others riding with us this would have been at a steady Club Ride pace of about 11mph average. However John set off at about 18 mph with me just clinging on and John waiting for me after hills. We stopped for 11s at Southwater Country Park Café and a stop at Southwater Cycles, open on Sundays. We returned via Christ's Hospital and Barnes Green. Average speed for the 26 mile loop including hills was 16.3 mph.
After lunch at the Café with some Arun Adur members including Dave Galle and his daughter Louise, John and I headed back. First it was the very steep hill over to Fittleworth. On the way down I spotted a Fox coming out of a hedge to cross the road. He spotted me and nipped back in his hedge. Then it was up Houghton Hill and down to Arundel and Tea at the Putting Green Café. Why there? Answer the large size Apple Pie they do there
John and I headed our separate ways home from Arundel. My mileage for the day was 63.
Edwin
Posted by RideLeader at 21:16 BST