Majorca. Friday 15 May.

Weather today was cloudy first thing but soon cleared to bright blue skies and temperatures up to 24C.

The ride today was to meet up with Derek at Porto Pollensa and then Derek led us to Pollensa old town and then Cala Sant Vicenc for lunch.

I led the ride to Porto Pollensa as I had leaned the back lanes route. First stop was the bike shop on the edge of Alcudia for Christine to stock up on energy gel.

We then followed the lanes and then the bay cyclepath to Porto Pollensa and a beachside cafe to meet up with Derek and his partner Margaret.

Derek then led us inland on his usual quiet narrow lanes about 5 miles to Pollensa and then through a maze of back streets to a central square and views of multiple steps up to a chapel. Then it more back streets to a Roman bridge and multiple picture taking.

We continued on lanes and then down to the bays at Cala Sant Vicenc. We stopped en route to view prehistoric burial mounds and a little different stop to view classic cars.

The bays were spectacular with jagged rock faces rising from the sea with great breakers rolling in. After lunch at a cafe on the front we rode up a road along the rocks at the side of the bay for good views.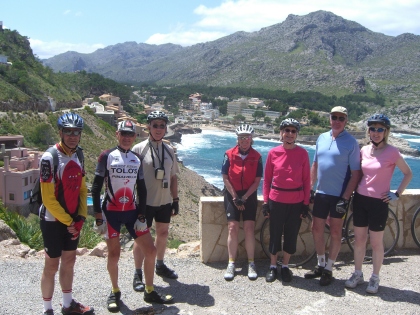 Then we headed out of town with a stop for some Donkey feeding. Then Derek took us on more lanes and round to a bar called Red Rum for tea. We said our goodbyes to Derek and Margaret and headed back to base.

In the evening we gave a presentation to Avryl in thanks for the organisation of the holiday. This was a cooking spoon a pashmina scarf and a pinafore.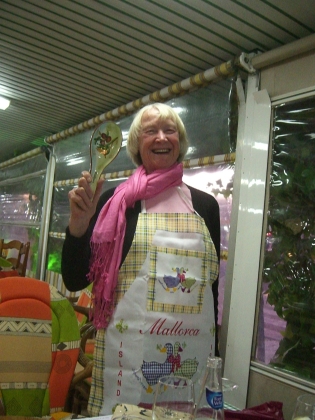 37 miles for the day.

Edwin

Posted by RideLeader at 22:18 BST
Updated: Monday, 18 May 2009 14:53 BST