Sunday 28th June. Ride to Sutton.
Today we had an early morning 8.00am start nominally for the morning only led by Colin and a 10.00 am start led by Avryl. Slight problem in that yesterday I spotted that the Pedaller Rides List had the early start meeting at Walberton and the Section Rides List had the Ride meeting at Chichester. I arranged with Colin that he went to Chichester while I went to Walberton. Neither of us had any takers and I did a loop via Slindon, Eartham, Upwaltham, Charlton, up Charlton hill and then Lavant and the Centurion Way to Chichester to join the main ride at 10.00. An advantage of an early start is spotting wildlife. As I cycled at the back of Slindon Woods I spotted a family of 3 ferrets. I stopped to get my camera out and they got in a bit of a tizzy, first running to one side of the road and then the other a great speed. I managed to get one picture.
Edwin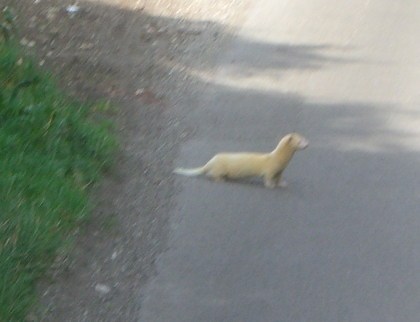 Report by Avryl
It was a warm humid day with some high cloud and not a great deal of sunshine which was just as well for it would have been very hot. We had a sprinkling of light rain in the afternoon for a few minutes which was quite refreshing.
Overall there were 11 riders dipping in and out, the main body consisting of Edwin, Jim Jennings, Harvey, Colin and Alison Disley (a newcomer). Others were John Maxim, Keith, Jan Bambridge, Alan and Liz. The latter joined us for coffee and then got distracted by a visit to Mount Noddy (their talk of Jack Russells sounds ominous).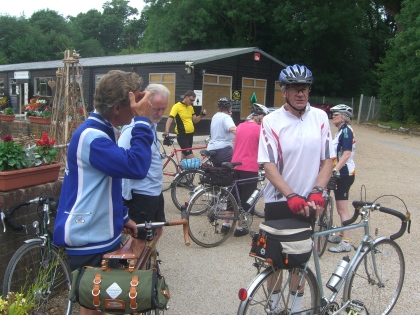 We started at the Cross and stopped for coffee at Aldingbourne. From here we headed for Eartham and then northwards to join the A285 to Duncton hill turning right at the bottom and onwards along the quiet lanes to Sutton.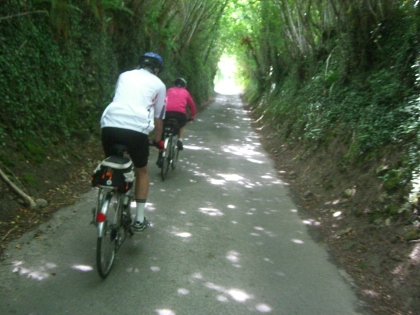 We had all brought sandwiches and so lunched in the Bus shelter opposite The White Horse.
Alison wa a real stalwart having a dislike of hills for she coped admirably with the short sharp hill at Sutton/Bignor and again after the tea stop at Houghton Bridge and up the hill to Whiteways. Just another little walk at The Spur and then homeward bound via Walberton Eastergate and Oving. And she still wants to come back for more!
Total mileage 36mls.

Avryl
Posted by RideLeader at 20:18 BST
Updated: Sunday, 28 June 2009 22:07 BST