Majorca Monday 11 May. Ride to Muro

Today's ride was to the Coves (Caves) of Campanet for a late elevenses and then the old town of Muro for a late lunch. Weather was hot and sunny all day generally reaching 28C and 32C further inland.

Derek led the ride and met us at the front of the hotel. For many of us who knew him it was the first we had seen him for many years. Avryl was pleased to hand over the burden of leading to somebody who knows the Island backward.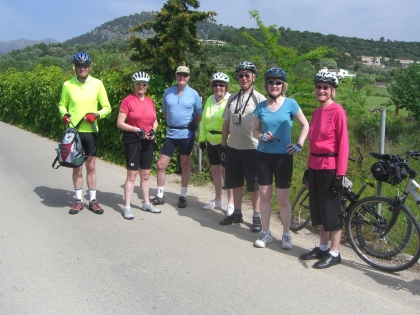 It was amazing following Derek as we took twists and turns on narrow little lanes with no traffic and unmarked on maps. We turned off onto a rolling lane along a beautiful valley. At one point Derek stopped and pointed out a sculpture of a giant head far away in a field.

By 12.00 we reached the Coves of Camanet cafi?? for a welcome respite from the heat. The cafi?? had lovely views across the valley.

We continued with more lanes and scenic hilltop towns before reaching Muro for lunch about 3.30. Mike and Elizabeth had managed to get there by bus earlier for a more normal lunch time but had to leave before we arrived.

After lunch we took a much more direct route back across plains and a nature reserve to base

Miles for the day 37.8.

Edwin

Posted by RideLeader at 19:50 BST
Updated: Monday, 18 May 2009 14:40 BST