Sunday 7 June. Green Ride
Today's DA Event organised by Arun Adur was called a Green Ride. Not for environmental sustainability but for going through places with the name Green in them.
17 members from all Sections met at Billingshurst Station arriving there by bike car or train. I had worked out a route from advance details Dave had distributed. 7 joined me, Colin, Jeff and Beatrice, Anne, Gill, Avryl and John Maxim.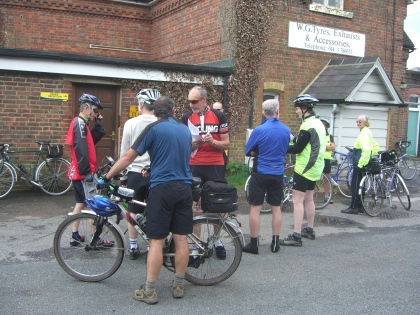 Despite a poor forecast the weather was kind to us. The main rain band went through overnight and we avoided most of the showers. We stopped to put on waterproofs only once and by the time they were on the rain had just about stopped. It felt chilly out of the sun, probably about 16C. This was a big contrast to 27C last Sunday.
Dave handed out the full details including questions at each location. Points for each Green ranged from 1 for close ones to 20 for the furthest away. We headed out in 4 groups with varying numbers in each, mine and 2 groups from Arun Adur and I from Horsham.
I headed out to Wisborough Green to collect the first point and then it was north on lanes to Bucks Green, Cox Green and Ewhurst Green. We were in Surrey now with Stockbroker type plush houses a plenty. Being further away from Billingshurst we collected some top scoring Greens with Ewhurst bringing in 18 and Forest Green 20. I had planned on lunch at Forest Green but as we arrived at 11.45 we went on further riding south via Mayes Green to stop at the Scarlet Arms, Walliswood. We arrived at the Pub at precisely 12.00 noon, even Horsham Section couldn't do better!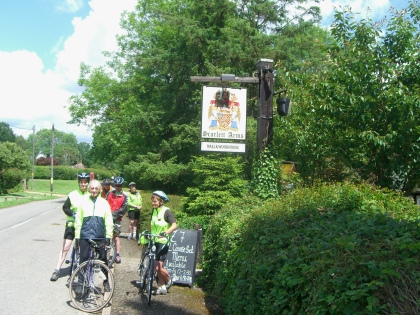 Well refreshed we headed on south via Rowhook, Strood Green and then a lane to Goose Green. After skirting Horsham at Broadbridge Heath we headed south on a lane to Barnes Green. We took the lane which is sometimes used for the Freewheel competition, riding up it and then down to the Main Road for half a mile into Billingshurst and tea at Burdfields Country Market. They made us very welcome with the bikes round the back and their gates locked to secure them.
We arrived first with the other groups soon following. Dave arrived to check the scores. We came second with 62 points. We did well for DA Event Points which is based on attendance with 7 out. There were 5 Arun Adur members and 4 from Horsham and 1 guest rider.
We headed back to Billingshurst Station to make our ways home. Ride distance from and back to the Station was about 34 miles. Well done to Anne who rode from home and then back after the Event.
Edwin
Posted by RideLeader at 20:15 BST