Majorca. Wednesday 13 May. Mountains Ride.

Today we split into 2 groups. Richard, Elizabeth, Mike, Irene, Avryl and Christine took a bus to Soller and then the Mountains train ride to Palma and back to Sollerand then bus back to Alcudia.

Edwin, Jim and Jan led by Derek took a hard bike ride into the mountains. Peter did the same ride but started separately aiming to take a short cut to the start of the climb but got lost and did a longer route but still managed to accidentally meet up with us for elevenses.

Weather for the day was mainly cloudy with some sunny spells and a few spots of rain but luckily not enough to wet the road. Derek had us worried by his advice about wet roads in Majorca. Apparently unique conditions in Majorca create a paste in places of limestone and vegetation which is like ice in the wet sending cyclists regularly skidding and falling. Derek never cycles in the mountains in the wet.

We met Derek on Pollensa bay and he led us on out of the way backroads not marked on any map. One good route was through woods with no traffic. We took a back route up a steep climb to the hilltop town of Campanet for elevenses in the square.

Peter joined us after 10 minutes. We continued on a backroad to campanari where we stopped to view replicas of old Majorcan houses. We then started on the big 6 mile climb after arranging to meet Peter at Luc Monastery Cafi?? at the top.

On the climb there were views of terraces for farmland and rocky valleys.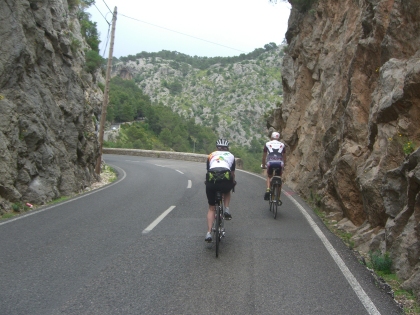 After multiple hairpin bends we eventually reached the top and had an ice cream at the Garage cafi??. Then a short descent to Luc and the Cafi??. After a while Peter joined us and we had a look round the Monastery. The descent started with some ups and downs before a great 10 mile descent to Pollensa.

Then lanes to Pollensa Bay. Riding along the bay a bus came past us and pulled into a stop and we passed it and then it came past us again. On the bus was the rest of our group on the way back from Soller and a lot of waving resulted. We continued back to base arriving soon after the others.

58 miles for the day.

Edwin

Posted by RideLeader at 21:11 BST
Updated: Monday, 18 May 2009 14:45 BST