Sunday 31 May. Rides to The Greyhound, Midhurst.
Weather today was again clear blue skies with temperatures up to 23C with a brisk NE wind.
Support for the early start morning ride was a bit limited. Colin was the leader and only Colin turned up. He did a loop out via Rowlands Castle and joined us near West Dean.
Arthur was the leader of the 10.00 am start ride but having just got back from France at 1.00am he came to the Cross and nominated me as leader before heading home. I was joined at the Cross by Harvey, Richard, Christine and Jan. Jan had done a long ride with Havant on Saturday so she left us at Lavant.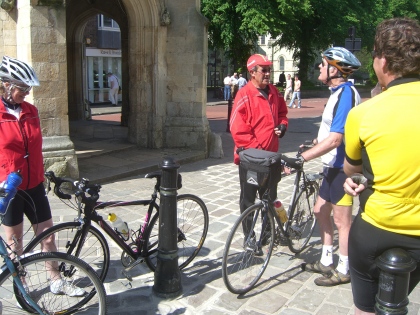 I led the group east out of town to Westhampnet and then on lanes up to and through Goodwood Park. Then a short way up the B Road towards Goodwood before turning off on the lane to Lavant. Then it was up the Centurion Way and on to West Dean Gardens for elevenses. We enjoyed a good break on the terrace. We noticed during the morning that there were a lot of bike rides about some with numbers on their backs. I later found out on the Web that it was the 100 mile Haslemere Festival Sportive.
Then it was up the busy main road. We were concerned about the pub getting busy so I took no more diversions and headed straight there via Cocking. The pub could best be described as a surviving Pub with the Bluebell, Cocking and The Royal Oak, Midhurst now closed.
After lunch I continued a short way towards Midhurst before turning right on a quiet lane to Amersham. Then it was more back lanes via Heyshott to Cocking and a stop for tea in the Garden of the Moonlight Café. Some members seemed to have trouble with pouring from the teapot through a tea strainer.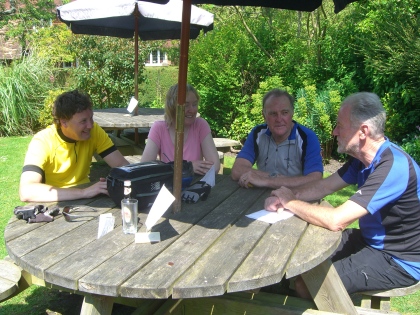 We continued up Cocking Hill and down the main road to Singleton. We then turned off onto the lane through the village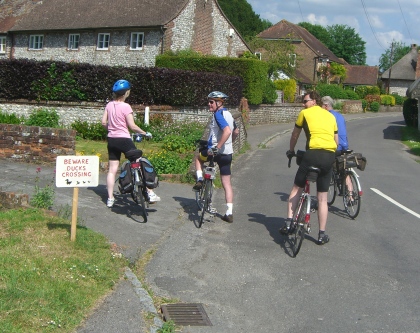 We continued to Charlton and climbed Charlton Hill with its wide views, a new climb for Harvey as we normally climb East Dean. Then it was past Goodwood Racecourse and a good long descent down Pillygreen Hill. Richard and Christine went on straight back to Chichester while I led Colin and Harvey via Tangmere.
My mileage from and back to Pagham was 48. Distance from and back to Chichester was about 34.
Edwin
Posted by RideLeader at 20:03 BST
Updated: Monday, 1 June 2009 17:35 BST