Evening Ride: Arun Leisure Centre to Eartham, The George
A perfect evening for cycling - the temperature had touched 32 degrees in the afternoon, and stayed very warm all evening, with only the slightest breeze. However this was evidently not sufficient to tempt anyone other than myself and John (R) to the ride start point, although we were later joined by Edwin and Ernie who made their own way to the pub.
We set out by way of North Lane, adjacent to Bognor Golf Club, then joining the cycletrack to Barnham. North Lane is proposed to be the continuation of the cycle track into Felpham college campus, but the last time I went that way it was almost impassable, being very muddy and boggy underneath lush vegetation. Recently however, it has been "improved" by cutting down all the trees and bushes, and piling rubble on the soft ground. Presumably this is not the start of cycletrack works but an attempt to provide vehicle access to "site 6", a very large residential construction site yet to be started. We noted road marker posts and surveying points all over the adjacent field.
The cycletrack to Barnham has suffered from a lack of rain this past fortnight, with the result that we threw up a lot of dust, reminding me more of some mediterranean byways than West Sussex.
From Barnham we went via Level Mare Lane and Mount Noddy, then up the hill to the pub, which was very well patronised, with a barbeque doing a roaring trade.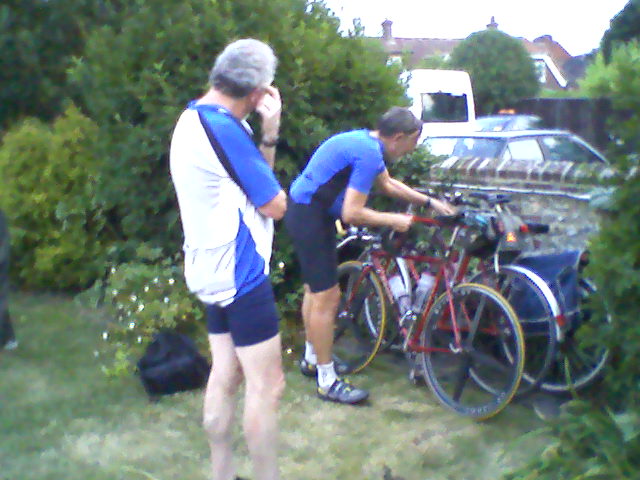 Edwin & John preparing to leave for home at 21.30hrs
Return route was straight down Britten's Hill all the way to the A27, and whilst freewheeling down I recorded 36mph (as compared to 3.6mph on the way up.) Then it was Level Mare Lane again and all the way down the A.29 to Bognor, with Ernie peeling off at Eastergate, and Edwin and John at shripney.
My mileage for the evening was 18.9.
Graham
Posted by RideLeader at 22:35 BST
Updated: Friday, 3 July 2009 23:06 BST