Sunday 14 June. Ride to Hooksway and Strawberry Tea.
Today the heat wave had returned with temperatures up to 25C.
We met at Chichester Cross and Gill our leader was joined by myself, (Edwin) Harvey and Christine for the ride to Hooksway. We were joined at the Cross by Chris Dart and 2 newcomers but they turned back at West Ashling as they needed to get back early.
The rest of us continued via Funtington and West Marden to stop for elevenses at the new café at Compton where we met John and Anne Bennett who were just finishing their tea before returning to Chichester. The tea rooms are very smart and well worth a visit.
After sampling the cakes and beverages we continued on the lane across to the Mardens with some short climbs. Then it was on to North Marden and down to Hooksway. We were soon joined there by Richard and Elizabeth who came by car and then by Colin who came via quite a few tracks.
The Pub was very pleasant in the sunshine surrounded by trees and Downs.
We continued, joined by Colin up the very steep climb back to the main road.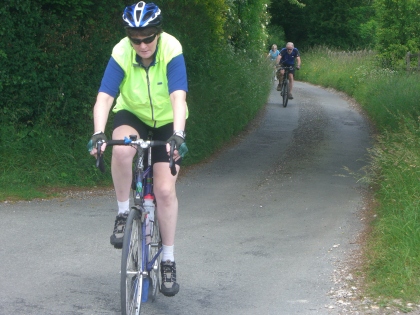 Then it was down to Chilgrove. Then it was pleasant lanes with a fair few climbs across to West Dean.

Gill then lead us down the Centurion Way to Lavant and across to Tangmere and Avryl's house for the Strawberry tea. We were joined there by Alan, Liz, Eric, Kath Richard, Elizabeth and Dave Parsons who cycled direct. Arthur, Lynn and the 2 Brians joined us after doing a Moulton Club ride with 4 other members of the Moulton Club. David Glue joined us by car after suffering a fall earlier in the day when a stick caught up in his mudguard resulting in him going over the handlebars. Luckily he had no serious injuries but the forks of the bike were damaged.
Avryl laid on a magnificent spread with great bowels of Strawberries and Cream and an assortment of cakes all enjoyed in her pleasant garden.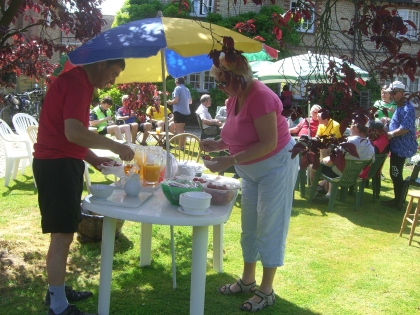 A great assortment of bikes including many Moultons were parked along Avryl's fence.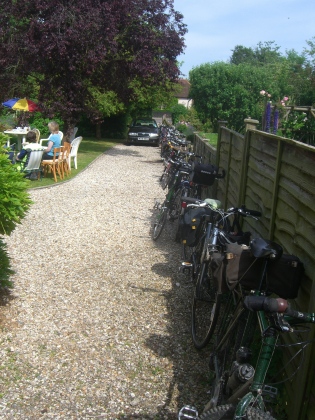 Everybody made their own ways home. Mileage Chichester and back was about 34. My mileage was 42.
Edwin
Posted by RideLeader at 21:44 BST