Majorca Tuesday 12 May. Cycling Superwoman Day

Today's ride was a short one to the Sanctuary Victoria and back. Weather started warm and sunny but later there was more cloud. Temperatures reached 26C.

Avryl led us on the usual route along the coast. It is very handy having separate access roads either side of the main road which are used as cyclepaths. We stopped at a cafi?? on the beach at Port Alcudia for elevenses. Mike and Elizabeth caught the bus there and met us.

We continued to Alcudia old town to explore. Christine stayed with Mike and Elizabeth to conserve her energy for the hilly ride later.

The old town is walled all round. The main street was full due to a market. We got onto a side street and some of us explored the Church which barred admission except on payment of a 1 Euro "Donation"

Christine rejoined us and we continued on the road up the peninsula.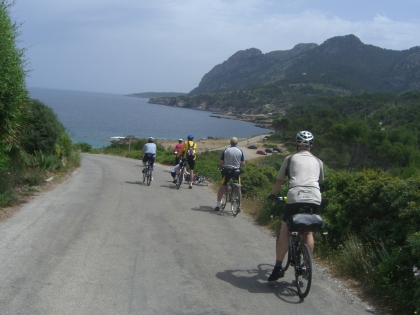 On yesterdays ride Christine had been lagging behind and feeling a need to stop and rest every hour due to lack of energy. I had advised her to try an energy gel available from bike shops. She had followed the advice and took half a sachet at elevenses.

Today the transformation was amazing into Christine supercyclist. She powered up the first hill we came to ahead of everybody else and told us she felt full of energy.

We stopped for lunch at a cafi?? on a bay. Then it was a very steep climb for about 2 kilometres with many hairpin bends. Christine was still riding fast uphill though stopping occasionally. We stopped at the top and had a look round. There was an old sanctuary turned into a hotel and a restaurant with views over the bay.

We retraced our ride and stopped for tea at a cafi?? by a Marina

Miles for the day 17.6.

Edwin

Posted by RideLeader at 18:14 BST
Updated: Monday, 18 May 2009 14:42 BST