Sunday 30 August. Ride to Boaters Bar, Prinsted.
There were 2 rides today, a long and short ride. I joined the Leader Colin for the long ride at 08.30 at Chichester Cross. Gill also joined us so just 3 of us.
Weather was mixed today, mainly cloudy with a few short sunny spells in the morning and also a light shower early on. The afternoon was cloudy and windy but dry. Colin led the way with a brisk pace on lanes via West Stoke and Funtington. Then it was up the B road towards West Marden but turning off at Walderton. Before Stoughton we turned left for a long climb on a pretty lane to the aptly named Upmarden. We stopped for a brief rest at the top looking across empty downland.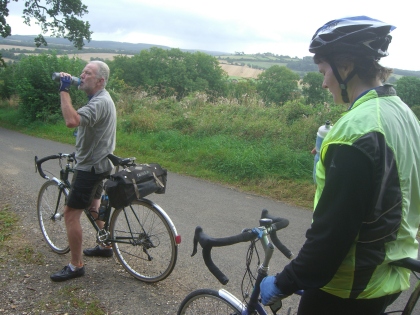 Then it was down and up again to North Marden and a left turn on the Chilgrove to Harting road followed by a long but steady climb up Harting Hill. After Gill and I refuelled at the top it was a sweeping downhill with many bends to Harting.
We rode a short way towards Petersfield before turning off on the Ditcham Park road. Colin was not expecting any traffic and had to get out of the way quickly as a pack of Racing Cyclists out training came swooping down. It was a pleasant quiet ride over the Downs with great views as we rode past the School and down to the Chalton Finchdean road.
We turned left just before Ibsworth and then a gradual climb across to Compton and a stop for elevenses at the Village Shop and Café. We continued on the main route down the valley but then Colin took a sharp left at West Marden on a lane up a steep hill. This route bypasses the valley road for a little way, going along the ridge and then back down again. Gill had not taken the route before and it was a little unexpected but then extra hills are to be expected on Colin's rides. We rejoined the valley road and continued down the lane towards Westbourne. Colin received a mobile Phone call from Arthur leading the easy ride to say lunch was changed from Emsworth to The Boaters Bar, Prinsted. See the picture below. Note that the law about mobile phones while driving does not apply to cycles!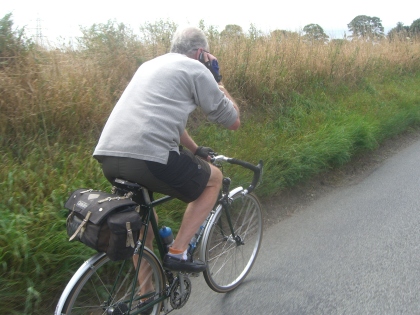 We continued via Emsworth to meet up with the others for lunch at Prinsted.
The short ride met at 10.00 at Chichester Cross. The ride was led by Arthur and gained Lyn, Jo, Mike, Harvey and 2 friends of Arthur from the Moulton Club. They also had Kath and Rachel who both turned back at elevenses. The group had taken the loop round Bosham Harbour and stopped for elevenses at the Arcade Café, Bosham. They then continued via Westbourne to meet us for lunch at The Boaters Bar.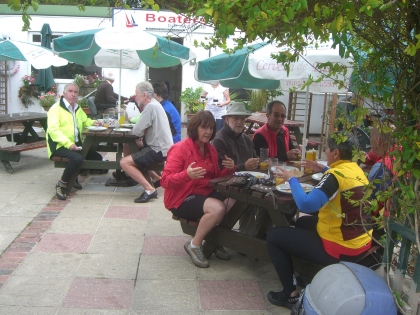 In the afternoon the 2 groups rode back together via Southbourne and the South Coast Cycle Route lanes to stop for tea at Fishbourne Roman Palace. Keith Dodman arrived there just before we left on his bamboo bike. My mileage for the day from Pagham was 56.
Edwin
Posted by RideLeader at 18:01 BST