Sunday 15 November. Ride to the West Sussex CTC AGM
I was leading this ride starting at Walberton Pond with an early 9.00am start to get to Wiggonholt in time for the AGM at 10.30. After the torrential rain and gales of yesterday it was quite peaceful with light winds and sunshine and showers. I caught the edge of one shower on the way to the start but it soon cleared. Temperatures were quite mild at 14C. On the way to the Pond I had to negotiate floods, one across the main road at Westergate. It was interesting to note that at Bersted at the location of the proposed Site 6 Housing Estate there was a lot of flooding on the fields
I was joined at the Pond by Anne, Gill, Avryl, Harvey and Colin. We took the usual route up to the main road and then the lane via Madehurst up to Whiteways. On the Madehurst Lane there were about 4 locations where a tree appeared to have fallen across the road and been cut up and dragged out of the way. It was good to see that a lot of Autumn leaves had clung on despite the winds.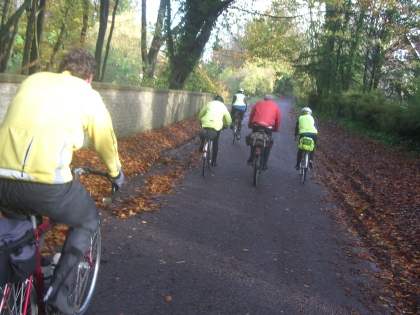 From Whiteways we had a fast descent to Houghton and then on to Amberley and the lanes round to Wiggonholt. Arthur, Alan, Liz, Eric, Richard and Mary attended by car. There was a good overall attendance with round about 26 in all from all Sections. Richard Bates our local CTC Councillor attended and answered various questions. Arthur chaired the meeting and managed to wrap it all up in about 1 hour 20 minutes.
All of our Section had sandwiches to eat in the Hall so I joined Arun Adur to ride over to The Black Horse Amberley for lunch. Then it was back home direct via Houghton Hill.
Mileage from and back to the Pond was 24. My mileage from home was 40.
Edwin
Posted by RideLeader at 17:05 GMT
Updated: Sunday, 15 November 2009 17:09 GMT